Rally / Racing Daihatsu Sirion with Hayabusa Gen-1 Engine
Greeting from Jakarta, INDONESIA.
I used to race Offroad Racing longtime ago and have my own workshop which specialize in modification, intalling and tuning suspension. Thereafter, we build several semi tubular as well as full tubular offroad race car with Jeep I-6 engine, Chevy based V-8 (
http://www.dssgarage.com
)
Years ago, I boought HAYABUSA GEN-1 engine from HOLESHOT RACING, but do not have the time and knowledge to finish the project in installing it into car based chassis. At that time it was difficult to find detail process of how to install everything needed.
NOW, I am planning to finished the unfinished task., and would like to document the day-to-day process of transforming a small city car common in Indonesia called Daihatsu Sirion into a Rally / Race car using the Hayabusa HOLESHOT RACING engine.
This thread is JUST to DOCUMENT from the very beginning, and NOT TO CHALLENGE anyone here who are surely more expert than I amn but rather to document step-by-step so that it might be easire for the next person who do not have expertise like me but would like to start building.
Again, I am located in Indonesia, and there are maybe only 10 Hayabusa owners, as big motorcycle is NOT SOLD in Indonesia due to LUXURY TAX. Therefore, there are not any single SPORTBIKE Shop who is selling HAYABUSA PARTS / PERFORMANCE PARTS.
So, as results, there are NO-ONE here in Indonesia that we can discuss about these projects, and we have to correspond to several people in New Zealand, Australia, US, UK, etc.
Plus, as we are only 18hours flying from US or EUROPE where most of the bike engineed car are build along with spare-parts / performance-parts, we have to be creative on using alternative parts, as we cannot import everything into Indonesia.
Any advice and comment from you guys about the build process are welcome and really appreciate...., as surely I will have lots of things to asked you guys...
So here we go.... (wished me luck....)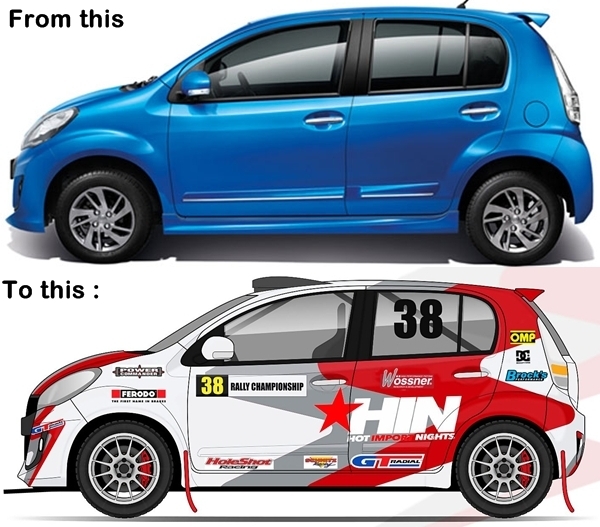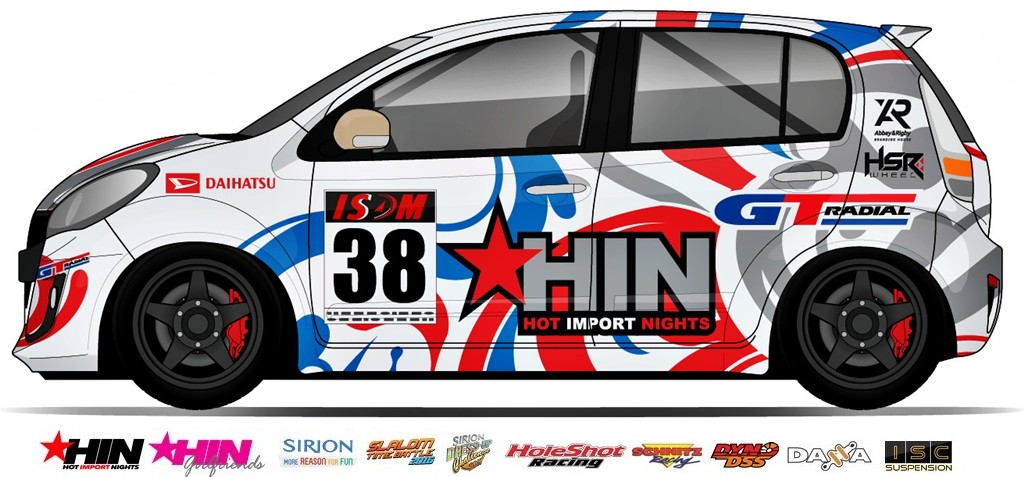 Concept :
To use daily city car common in Indonesia ie. DAIHATSU SIRION
Modified for ROAD RACE TOURING / SPRINT RALLY
Extrerior looks has to be original
Interior looks has to be original using standard Dashboard, except A/C
If possible to use all interior, except taking out parts that is interfering with SAFETY
Target :
To participate in Sprint Rally and Road Race

Modification :
Replacing engine with GEN-1 Hayabusa
Installing adjustable camber / castor adjustable plate dari ISC COILOVER
Replacing suspension with ISC COILOVER Suspension depan & belakang
Modify from front wheel driver (FWD) into rear wheel driver (RWD)
Installing roll-cage / roll-bar / safety-cage with original interior if possible

Project :
HIN - HOT IMPORT NIGHTS
HIN GIRLFRIENDS - HOT IMPORT NIGHTS GIRLFRIENDS
TUNEUP DIGITAL MEDIA
ISC COILOVER - Coil Over Suspension (Rally / Racing)

Modification Support by :
DSS GARAGE (http://www.dssgarage) - Custom Roll-Cage, Custom Fabrication, Suspension Tuning
DSS DYNO - ECU, Engine Modification, Engine Installation. Chassis Dyno, Tuning