hi GonzoRacer , thanks for the welcome (back)
yeah, I had a rough time lately
lost my entire family plus my dog
... now its just me and my late Brothers dog that I adopted
...thankfully i still have my old pride & joy
(the 1952 Diamond T .... and my newest fun toy; a lightened Polaris 800 quad
)
yeah, and I just turned 50 as well
.... so that was part in some of the compromises on the car design;
i was always kinda going for Bigger,Better,Faster when building V8 sand/desert cars
latest one was well south of 1000 hp at the rear wheels (all aluminum twin turbo dry sump 572cid Brodix)
on 4 corner/24" travel independend suspension (still the king in the dunes: nothing can touch its power and handling
)
so this project is kinda the polar opposite :
Simple, Cheap, Light ....
pure driving fun !!! (no radio, no gadgets, nothing .... well, besides the high tech engine and electric power steering)
when I restarted the CAD drawings i promptly drifted into aluminum front and rear spindles on coilover A-arms again ,
buy my friend stopped the madness lol
it would just not look right for the pure traditional hotrod look we have in mind.
so i bought a Socal speedshop forged steel 4" drop front beam axle and "gasp" quarter elliptic leaf springs !!!
the front will be a 4-link / panhard bar setup very similar to this pic i found while surfing the net: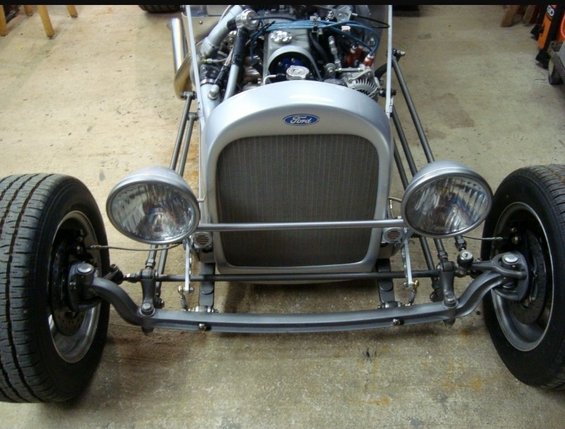 ...but not sticking out past the grille shell ... i like it better with the grill shell as the most forward point :
point is that this will be an entirely
recreational ride
on
public roads
...
i kinda look at it like a Harley (or a 4 wheeled replacement for a Harley I guess) ;
a GSXR will kick its butt all day long , but its intend is more of a "cruiser"
(however, the ecoboost should still be a lot of fun powering up some local canyon roads)