Hello All,
This thread is to log my build project. I encourage all constructive criticism regarding my design/fabrication as I want to build the best car I possibly can with the budget & goals that I have.
Background:
I'm a 22 year old Aerospace Engineer with a focus in control systems. I currently work full-time and do grad school part-time. I also have a girlfriend, but I'd say we have a pretty relaxed/low-maintenance relationship. That being said, all of that stuff inevitably eats up time I could be dedicating toward the build.
I was maintaining a 60-70% savings rate with the goal of retiring very early, but decided I am too career ambitious and liked my job too much to plan on walking away at age 30. Plus, I could die or something at any moment so might as well pursue a dream project. I figure there is no point in saving up a lot of money and buying a super car at age 40-50 when I can just build my own fast car instead. Consuquently, I've loosened up my savings rate a little bit and plan on spending ~$5,000/year towards this build. I have spent about $5,000 already for 2018. I've broken the project up into three main phases which are discussed in the Build Plans section
Past Experience:
In high school, I was really into fuel economy so I turned my first car, a 2000 Ford Focus ZX3, into The AeroFocus. It was good for 50 MPG on the highway.
Later in high school, I resto-modded a 1993 Geo Metro XFi as a more normal looking fuel economy machine.
Before:
After: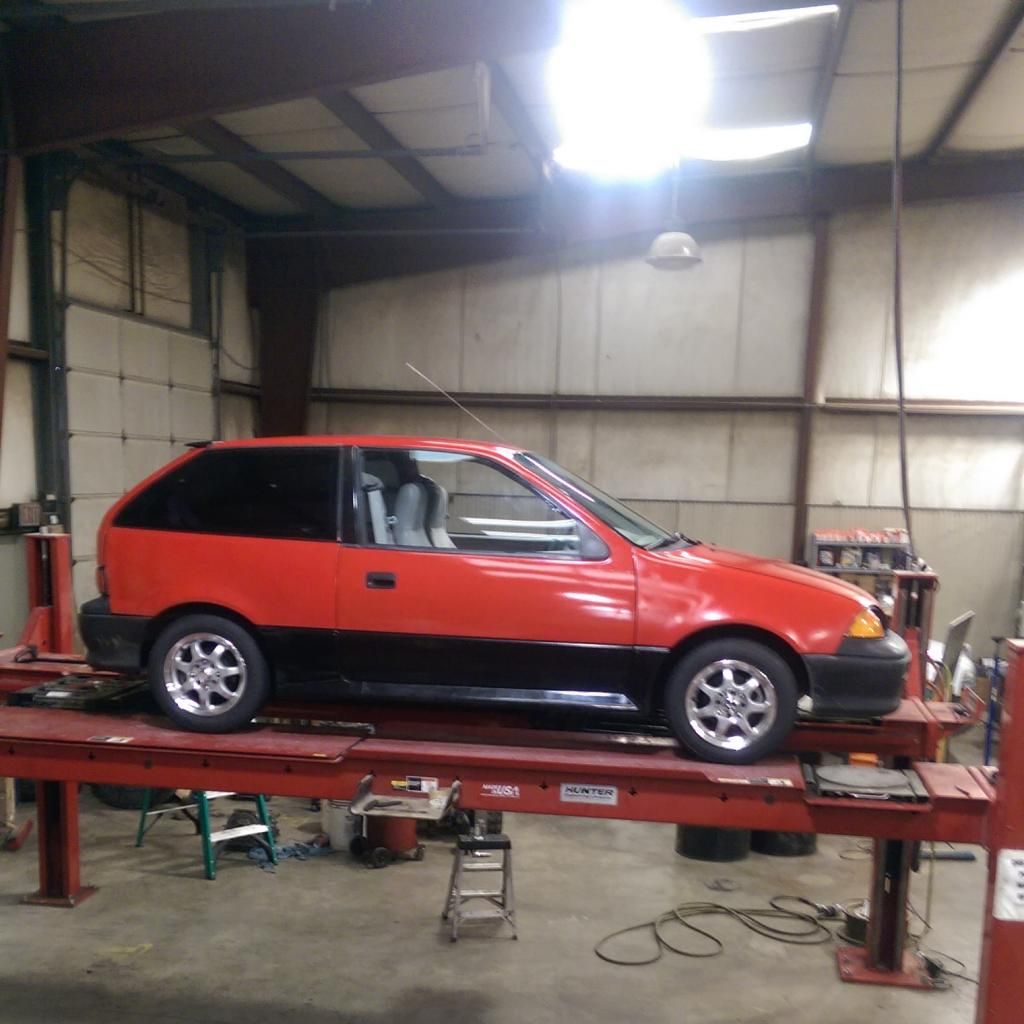 Since then, things have been a bit quieter in the automotive realm. In college, I spent more time on aerospace projects including rocket payloads, solid rockets, and liquid rocket engines. Over the years, I've built a diverse skillset that has positioned me to be successful with a large project such as building my own car. I still have a lot to learn, but now it's just a matter of time, money, and willpower to get this thing done.
Build Plans:
Phase I: Rolling Chassis, 1400 lbs, 200 HP, 7:1 lbs:HP
Phase I started about 2 months at project conception. Since then, I've been researching, designing, and spending money. My timeline for Phase I is now to the end of 2020.
During Phase I, my plans are:
-Finalize the vehicle architecture [Mostly complete]
-"Finalize" the desired suspension geometry (I understand this will likely need tweaks and revisions over time) [Mostly complete]
-Finalize the CAD model [In Work]
-Procure necessary tools and materials [In Work]
-Fabricate the tube chassis
-Fabricate suspension bits
-Mount the engine and transmission
-Complete interior fabrication and wiring harnesses
-Make the car street legal enough to get a VIN assigned. At this point, it will likely just be running and driving vehicle with an open tube chassis and the required lights, glass windshield, and more
-Take the engine and transmission back out, clean them up a little bit, add some goodies, and put them back in.
Phase I Goal: Drive on streets, compete in autocross and trackday type events
Phase II Fully Enclosed, 1600 lbs, 200 HP, 8:1 lbs:HP
For Phase II, I plan to full enclose the car with an aerodynamic fiberglass body. I anticipate this will be a PITA so I'm giving myself another 2 years for this portion of the build. The plan is to shape a fiberglass mold to the desired shape around the tube chassis, do a wet fiberglass mat layup with epoxy resin, and then go from there. I have composite experience with fiberglass, carbon fiber, and kevlar, but nothing on this scale. I am also used to vacuum bagging and using an oven for curing so I anticipate this will be a slightly resin heavy layup. This seems typical of most DIY garage composite work.
Phase II Goal: Drive on streets, compete in autocross and trackday type events
Phase III: Race Ready, 1600 lbs, 300-400 HP, (5.3-4):1 lbs:HP
-Race-Ready rebuild of the engine and transmission. Dry sump oil system, turbo/supercharge or high compression build, dog box engagement transmission, etc.
-Race Prep the car: Full containment racing seat, Certified Fuel Cell, New Wheels/Tires, etc.
Phase III Goal: Compete in SCCA and/or NASA competitive events
Design:
The plan is to build a mid(rear?)engine RWD vehicle with 2 side by side seats. The engine and transmission will be from the Honda K-series. I'd like the final vehicle weight to be 1600 lbs or less.
Right now, I'm eyeing the windshield from the Lotus Elise (Polycarb for around $580 shipped) or the Toyota MR2 (Glass). The windshield wiper (required by law) will rest in the upright position like Koenigsegg cars.
The front wheels will be 17x7 with a 40-45mm offset and 205/45R17 tires (These may adjust some as the design converges towards a final weight distribution)
The rear wheels will be 17x9 with a 40-45mm offset and 245/40R17 tires (These may adjust some as the design converges towards a final weight distribution)
The main roll hoop will be 1.5" x .12" wall to comply with SCCA Hill Climb rules. Just in case I ever want to get into that...
The rest of the chassis will consist of 1.5" x .083" round tubes, 1.5" x .12" square tubes, 1.5" x .063" square tubes, and 1" x .083" round tubes
Desired Car Height: 42-45"
Desired Front Track Width: 60"
Desired Rear Track Width: 58"
Desired Overall Width: 68"
Desired Wheelbase: 90-100"
Microsoft Paint Sketch:

Unfinished In-Work CAD Model. Between work, school, and hobbies. Please hold criticism on this particular item. I'd say only about half of these tubes are in right place. I've be iterating so much that I've been getting sick of CAD and decided to take a break from it for a little bit.
Front Suspension Design is decently detailed: