TRX wrote:
Stephan wrote:
the "vintage" solid axles and quarter leaf suspension is definitly going to be a bit of a compromise,
Add some decent axle location and you'll be fine. I've driven thousands of miles in beam-axle vehicles. All of the horror stories of beam axle front ends seem to assume the front axle is restrained only by floppy leaf springs.
Arthur Mallock was the god of the beam axle in the British "750" racing series. His cars were highly competitive. He passed away a while back, but some of his magazine articles and handwritten notes are available here:
https://www.arthurmallock.com/
Note that there's no fancy handwaving about things like roll centers when you're running a woblink or Watts link. "Where roll center? THERE roll center!"
I'd be running a beam axle up front, except was way cheaper to do IFS.
lol .... oh yes, the beam axle idea kinda ended up a little more expensive then initially expected
mainly for me refusing to buy a $100 china (probably cast steel ?!?) knockoff beam and buying a Socal Speedshop designed and forged in the US of A beam instead
(it has the telltales of forging ; big fat part line and rings like a bell when you strike it with a wrench
)
total overkill, probably even on a 3500 lbs hotrod , but peace of mind.
initially I wanted to locate the axle by using the quarter leafs as lower links, but the length variation of the compressing leaf put an end to that idea
now im thinking perfectly horizontal/parallel 4 link with a panhard bar that perfectly matches the cross-steering link to eliminate any bump-steer.
at least by design the beam has no suspension/track scrub going tru its travel (unless your kingpins are shot lol )
yeah, a decent pothole will probably upset the beam some (at least thats usually the only thing that throws my beam axle Truck a little out of shape)
but im not too worried
talking about steering;
i plan on a "cross steering" setup, but using a quicker and more responsive rack&pinion instead of the traditional vega steering box.
Unisteer is selling them one sided racks for ~$450 ,
but looking closely at them i realized its nothing more then a polished Polaris RZR rack with one tie-rod whacked off
so i bought a basic RZR rack for mockup ($80 on ebay) but plan to actually use the beefed up late model (EPS) version for final assembly
(bigger housing, larger diameter heat treated rack shaft, etc)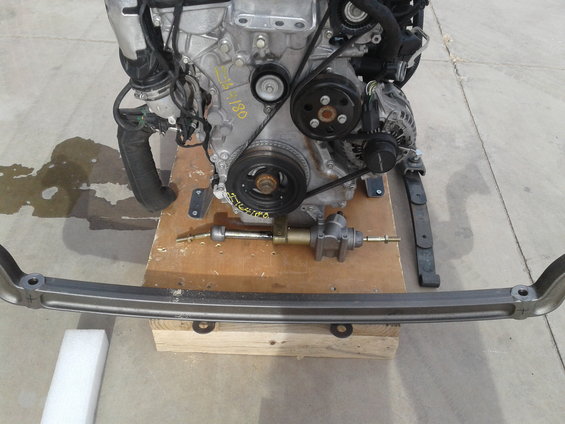 the rack fits like a glove into the oil pan recess
ratio is ~ 2.5 turns lock to lock on its ~ 5.5" stroke
late RZR`s are way heavier plus have to endure high long travel/off road off-center loads,
so im not worried about its strenght, even when only used one-sided
(after all Unisteer sells the lighter duty version for use on way heavier hotrods)