I've been toying with the idea of building a custom car for quite a while, and I finally decided to take some steps forward toward planning my frame and suspension. I like the Lotus 7, but to be quite honest, it's hideous, and has the aerodynamics of a barn door. I am a big fan of British cars, and I really want to create my own chassis that mounts to a Bugeye Sprite body (fiberglass replica). The planned powerplant is a turbocharged 13b rotary, tuned to around 400hp. The car is tiny enough to where it would weigh little over 1000lbs, so it would be appropriately terrifying to drive.
Anyway, I've read through Chassis Engineering by Herb Adams, and I've been playing around with the suspension design in Wishbone. I drew up a complete chassis, using a backbone frame design, so it can be torsionally rigid without a roof, and the weight can be kept as low as possible. I'd like to use chrome moly for the chassis, and use composites for most of the flat panels on the car along with the body. Carbon fiber would be optimal, but it may end up as fiberglass due to cost. It will have a flat undertray that'll bolt to the bottom of the car for aerodynamics primarily, but it should help with rigidity as well.
Issues I'm working on: I want to mount the engine completely behind the front suspension, but due to the extremely short wheelbase (80"), the gearshift would be uncomfortably far back using an RX-7 transmission. I am compensating for this by mounting the seats as far back as physically possible in the chassis, to the point where clearance from the rear tires will have to be carefully measured. The added benefit of everything being so far back is the weight balance will be at least 50% rearward, helping with traction considering the independent rear suspension won't be able to have much anti-squat.
Suspension design is quite complicated, as I'm finding out, but the basic design will be unequal-length wishbones front and rear, with pushrods leading to some motorcycle shocks/springs. I've worked things out to where I can adjust the length of the A-arms without considerably altering the frame design, and I'm starting to get some fairly decent numbers in Wishbone.
Considering I have no clue how to use the CAD software out there for FEA analysis, I've gone ahead and built a scale model out of balsa to test rigidity and get a good 3D idea of what the chassis will look like. I won't be able to start construction for probably a good 6-months to a year (I'm in an apartment now, and moving out of the state next year... so it'll be a while 'til I have a garage), but I want to get all the planning I can do finished by then.
Bottom of the chassis: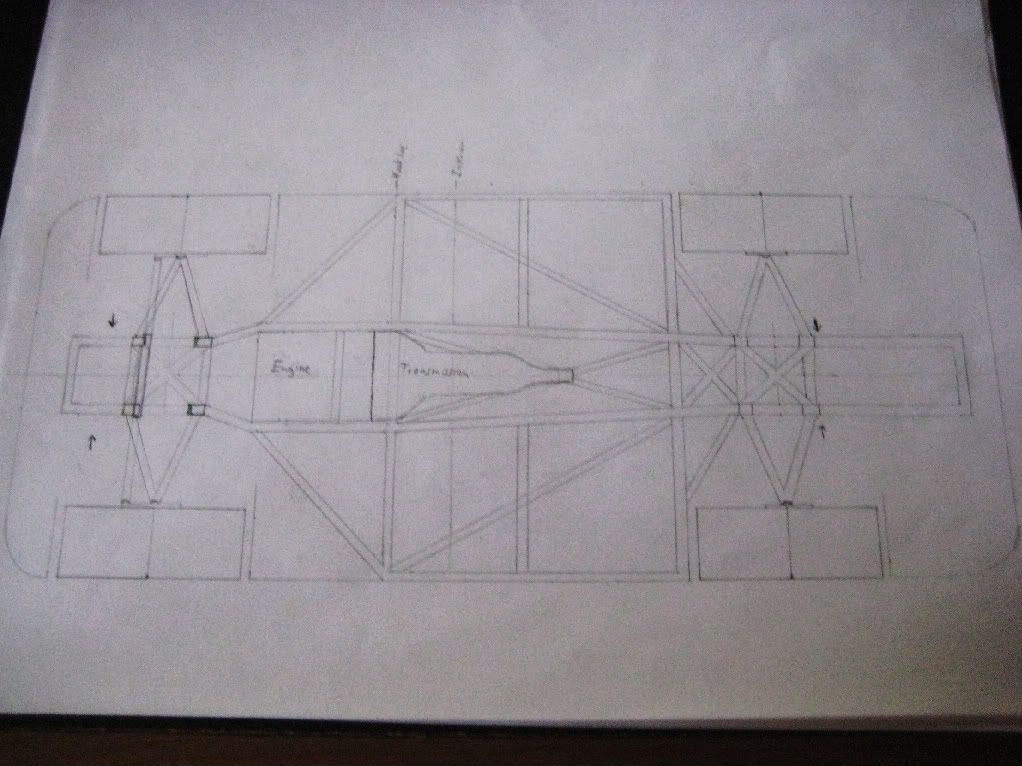 Top of the chassis: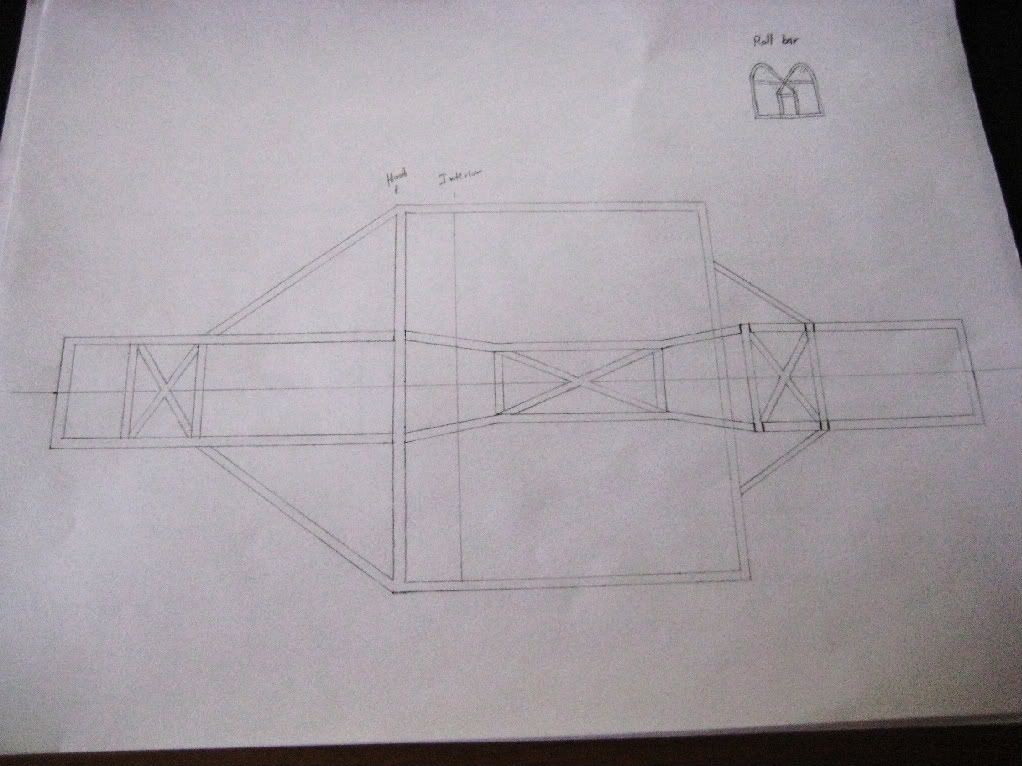 Side view:
1/12 scale model:
http://i26.photobucket.com/albums/c145/
... G_4411.jpg
http://i26.photobucket.com/albums/c145/
... G_4422.jpg
http://i26.photobucket.com/albums/c145/
... G_4419.jpg
http://i26.photobucket.com/albums/c145/
... G_4419.jpg
http://i26.photobucket.com/albums/c145/
... G_4417.jpg
http://i26.photobucket.com/albums/c145/
... G_4416.jpg
http://i26.photobucket.com/albums/c145/
... G_4415.jpg
http://i26.photobucket.com/albums/c145/
... G_4414.jpg
End concept:
(For those of you who don't know what a Bugeye Sprite looks like)
So, basically what I'm looking for here is some feedback on the chassis and where you think the weak points are. Keep in mind the balsa used in the model is thicker than the scale equivalent of the chrome moly chassis would be, and in the drawings I've left just enough room for the engine to fit inside the chassis (with mounts). I can adjust this slightly once I actually buy the engine and I can get precise measurements, but for now it's pretty close.