I should probably just go with P clips. Was hoping for something a bit more elegant. Was thinking these:
They are pretty cheap, pack of four for around $13.00. The bottom isn't flat though and I wasn't pumped about metal on metal for securing them to the frame.
Then these: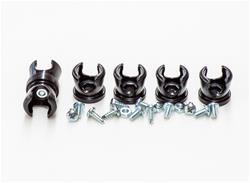 Also reasonably cheap at six for around $16.00. Requires twice as many holes as the P clip though.
P clips are cheaper though, 15 for about $13.00, and nobody is likely going to be seeing them in the tranny tunnel anyway.