Probably newer than most would expect​, but I'm going to be doing a few major repairs on my 2010 F-250 this summer. It's my work truck, and it's led a tough life. It's been basically a bush truck since new, and working in the oil patch is hard on equipment. Most guys doing the same work as me only run their diesel trucks to about 150,000 kms, so I'm way ahead of the curve on that. Mine has the 5.4 gas engine, and currently it has 348,000 kms. Considering the usage, this truck has been amazingly trouble free. Up to now it's only needed oil and filter changes, brake pads, and last fall it got treated to new springs. I was planning to just change the tires, sparkplugs, and a worn tie rod end this set of days off, and figured while I had the plugs out, I'd do a compression test. #8 plug was pretty black, and it only went to 30 psi, so I guess that's where the oil has been going. The rest of the truck is mostly pretty solid though, and I would rather fix this one than buy another, so here we go. I hate car payments, and don't really want to buy someone else's headache for something that has to be reliable in some pretty crappy conditions. This will be my first time getting into anything this new, and the second engine I've put together, so it should be fun. I've ordered a factory service manual dvd and a book on rebuilding Ford's modular engines, and doing as much reading as I can about people rebuilding these engines, so hopefully it goes well. I'm torn between ordering a rebuild kit now so it's here when I'm ready for it, or waiting until after I tear it down and check the condition of the cylinders and bearings. Apparently the bores might still be good enough to avoid boring them out. If anyone here has any experience rebuilding these newer 3 valve engines, I would definitely appreciate any advice. I'm probably going to use a DNJ rebuild kit, OEM phasers, and a Melling high volume oil pump. I'll leave the engine rebuild for later this summer, and look after some of the less time consuming stuff now. I ordered new mud terrain tires at Christmas in preparation for the spring time mud, so I put them on yesterday for a bit of lipstick on the pig. Today was replacing the loose tierod end and checking wheel bearings. The front right was loose and noisy, so I'll pick up a new one tomorrow and replace it. $650 a piece for the unit hub/bearing assembly, ouch. That's from SKF, Ford wanted $950. While I had the Ford parts guy on the phone, I asked what a reman engine from them is worth, just for giggles. $6500 isn't actually that bad, but doing it myself should still be way cheaper. Here's a picture of the beast all covered in mud at work. With all my tools and equipment in it, it weighs about 9500lbs, and gets beat on pretty hard on some pretty bad bush roads.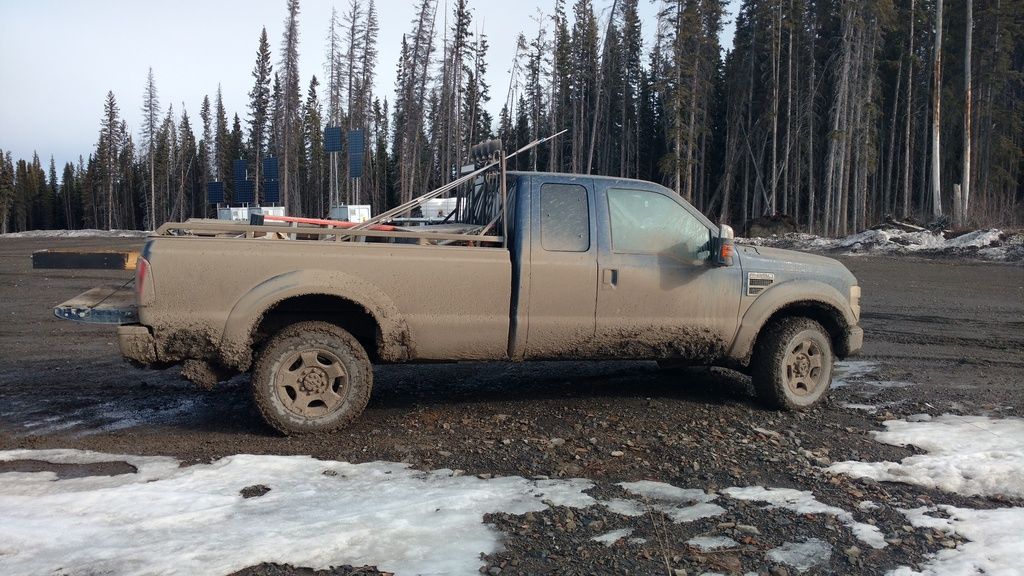 Here's the kind of roads it mostly sees, and this is during dry weather and good road conditions. Pavement is less than 10% of my driving.
Pulling the hub/bearing unit.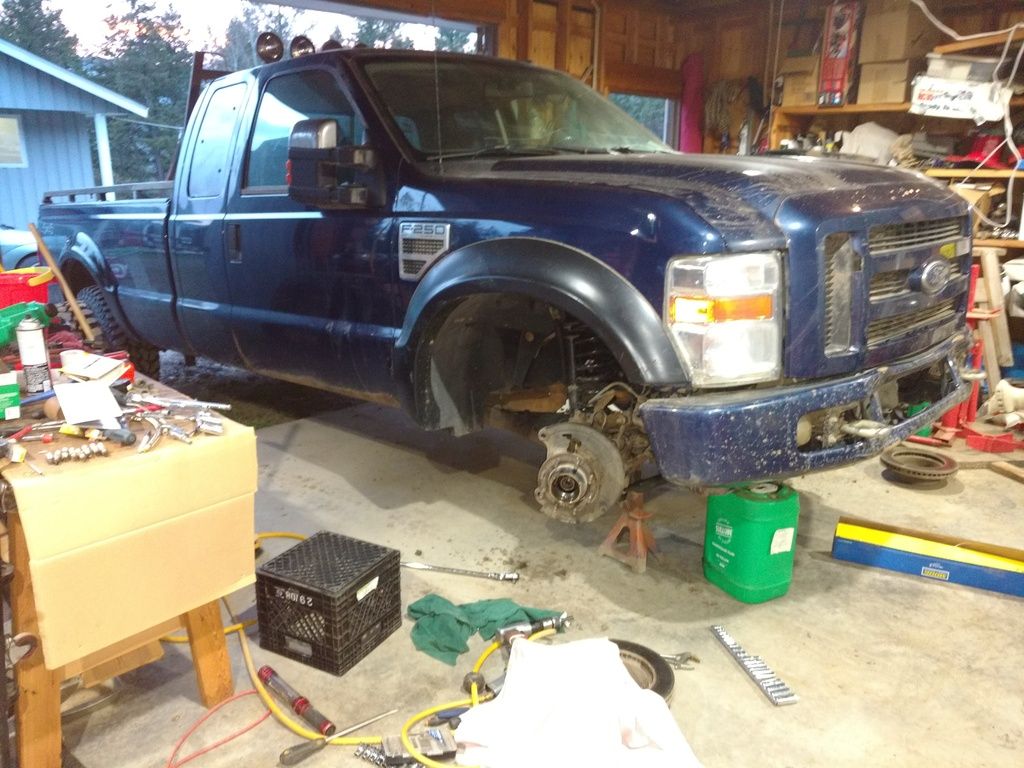 The old tierod end. The threaded part where it's bent is 1.25" solid steel. I went off the road a few years back and hit a stump hard enough that I had to cut the tierod to take it off. I guess the tube wasn't the only thing that got bent.
That's all for now, but this should be interesting. Unfortunately, I don't think I'll be able to do much with the locost this summer.
Kristian