Photoman, That's priceless! Thanks for a good laugh!
horizenjob, FU1 and 2 are the second set of vertical tubes from the front of the chassis, typically the rear mount for the upper control arms would be attached to these tubes. What I've been thinking about is to mount a pair of vertical plates or to at least facilitate a vertical surface of some sort so that I can mount a pair of these little slider type beggars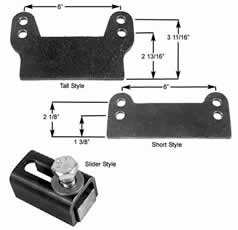 onto said vertical surface. If I can't get a vertical surface out of this without adding a whole lot of material than mounting the sliders on the same plane as LA and LB (the forward most vertical tubes) and FU1/2 (FU1/2 now to be moved to the same angle as LA/LB) will suffice. The only down fall that I can see to this arrangement being the need to shorten or lengthen the upper control arms more radically with any vertical relocation of the cross shaft as the pivot would move in or out as it was moved up or down respectively. That being said how often do I really think that I'm going to need to adjust the upper control arm pivot point??
The cross shaft just makes for a nice solid mounting point that can be moved up or down to allow for different wheel/tire/whatever combinations in the future. I think the cross shaft should also act as a nice brace between the two mounting points as well regardless of what route this ends up going. I was out in the garage for a whopping 5 mins just now while I'm writing/ thinking about this playing with a rectangular piece of cardboard just to see how it could work. I suspect that my original thoughts of minimalistic plates may not work, along with the minimalistic plates come some minimalistic welds... No big deal we'll get this yet.
Tom, You know what I'll totally take you up on that, I go to Seattle quite a lot for work so the drive is no big deal. It will have to wait a little while until my second job slows down a little, it always does in the wintertime. In the meantime you know that I'm going to demand that you post at least two or three or more pictures of that beautiful car here right??
A friend of mine was trying to convince me to go with some Vette parts but by the time we actually had a really serious conversation about my project (yep he even knew what I was talking about!) I was well along with my parts acquisitions so running a corvette's rear suspension etc. was out of the question for me.
I sounds like you plan on building a real screamer and I look forward to seeing the start of your build log! The pick that you posted of Jim's front end design is what I wish that I had built. I will know better for next time. I need to budget for a bunch of the front end parts now, funny thing about building these cars is that you always need some other part that you don't really need yet, something that's two or three steps away from where you are now but you still need it so that you can work on whatever it is that you happen to be working on at the moment. All I really want to do right now is get my frame painted but to do that.... What's that old saying... "You can't get there from here".
Cheers,
Ted.