Let me start with a short introduction. I'm Scott, and I live in Dallas.
Years ago, I owned a BPU Supra Turbo. It was awesome, and had about 450hp an 500 lb/ft of torque. The costs of operation were similarly staggering. While gas mileage was surprisingly good, tire life was quite poor. I was lucky to get 10k out of a set of rear tires. That wasn't because I was doing burnouts all the time (or at all). The high power levels, and the asymmetric tread pattern meant that I was going through tires that cost $150 each (those were the cheaper ones) with disturbing regularity. I also had some issues with my automatic (stupid I know) transmissions.
To make a long story short, I couldn't afford to keep the car, and I've missed it ever since. I've wanted to get the same excitement out of a more affordable package. For a while, I dreamed about spec Miata racing. Then, I actually sat in one. I'm 6'4, and at the time I was about 315 lbs. There was just no way that was happening.
Some years back, I read about the Locost. I was intrigued. It met my demands for affordability, both in construction and operation, and it sounded like a blast. I was pretty worried that I wouldn't fit in one, and then I found the 442 sized chassis. Oh, and I lost 75 lbs. Between the two, I'm pretty confident that I will fit.
Let me emphasize that I don't have any grand illusions about my engineering or fabricating prowess, so I really do welcome comments and suggestions throughout the process.
So, after a couple years of off and on research, I think I have settled on a plan. I want a little more power than the 1.8 Miata block, so I settled on the 2.3 duratec. I want an IRS setup, because I want a great handling car. I think the best source will be buying a wrecked Ford Ranger, and using it's engine and transmission, and perhaps using Miata stuff for the rest? Perhaps I'm better off using a Miata donor (I've heard the engine and transmission mate pretty easily) and buying the duratec separately.
In any case, I've started by building my build table.
I'm going to shoot for a metal framed table with an MDF surface.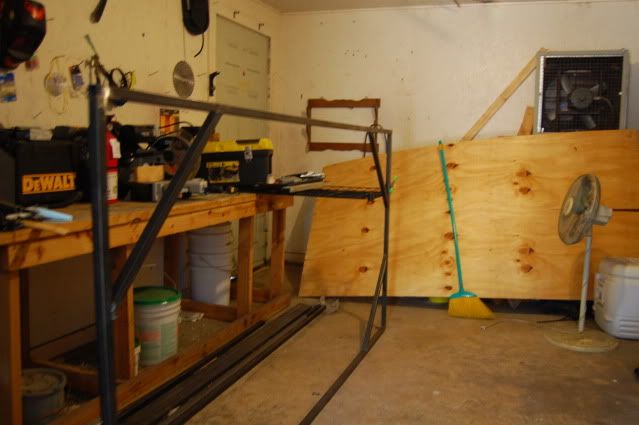 These are the legs for my table.
I've drilled and threaded a hole into each foot so that I can level the table. My garage floor certainly isn't flat, but I'm hoping my table will be.