Hi all, I've been reading this forum and looking at other builds on the internet for a long time now and decided its time to post up some stuff from my project. This won't really be a traditional build log, because I started the build about 6 or 7 years ago. I worked on it for about a year and then moved with no shop for the next 4 years, so it stayed at my parents farm 1000km away from me. The car is for autocross and street with minimal street equipment and very basic interior.
The list of vehicles that gave up parts are;
82 Toyota Corolla - diff, brakes, spindles, e-brake cables and handle
87 Toyota Tercel - steering rack
86 Hyundai Stellar - transmission
77 Ford F150 - steering column, misc brackets
76 Mercury Cougar - steering shaft, steering wheel adaptor
78 Ford Fairmont - distributor for Duraspark ignition
83 Toyota pickup - fuel pump
95 Geo Metro - alternator
460 Ford - carburetor
Peterbilt clutch links for suspension parts
Freightliner fuel tank strap for suspension parts
I started with a CMC book frame that I bought when they first got started. I have re-worked a bunch of things on it, including the tunnel (to fit my 260lb ass and have the engine further back), front suspension (upper arms completely adjustable using rod ends and shock mounts to get it to sit low) as well as many other things that CMC didn't think of (like pedal box, steering rack mount, steering column mounts, radiator mounts).
Attachment:
Chassis4.jpg
Welding the floor panels
Attachment:
HPIM1070.jpg
Attachment:
_IGP8552.jpg
Homemade pedal box
Attachment:
HPIM1067.jpg
Rack mounts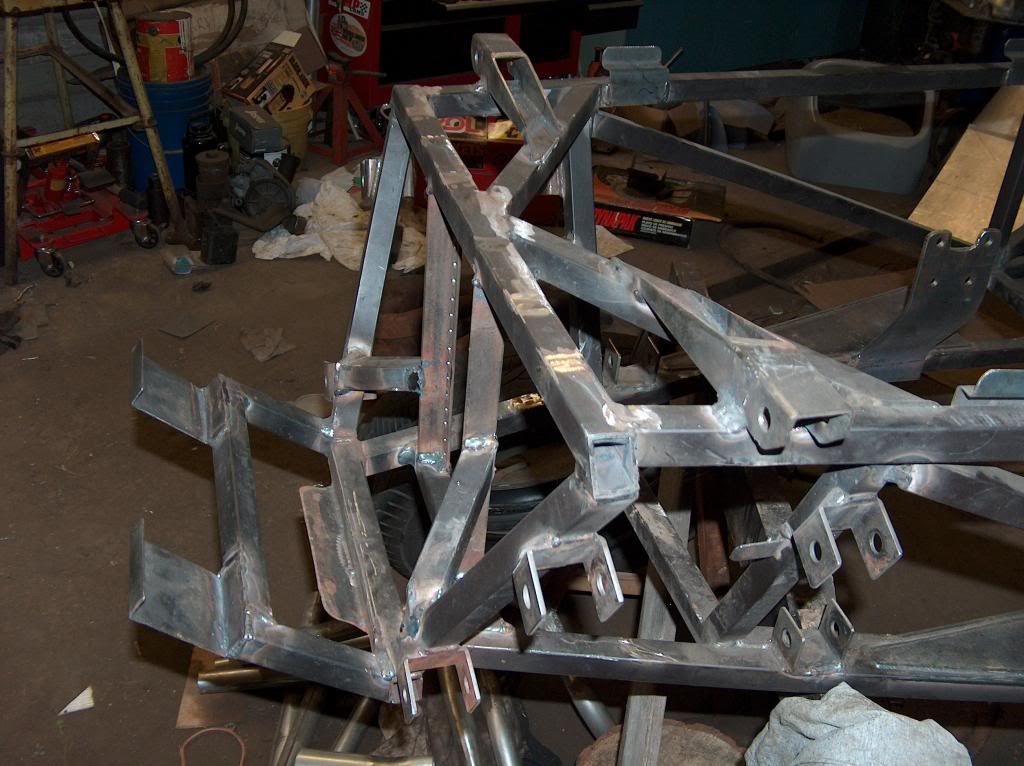 Lower rad mount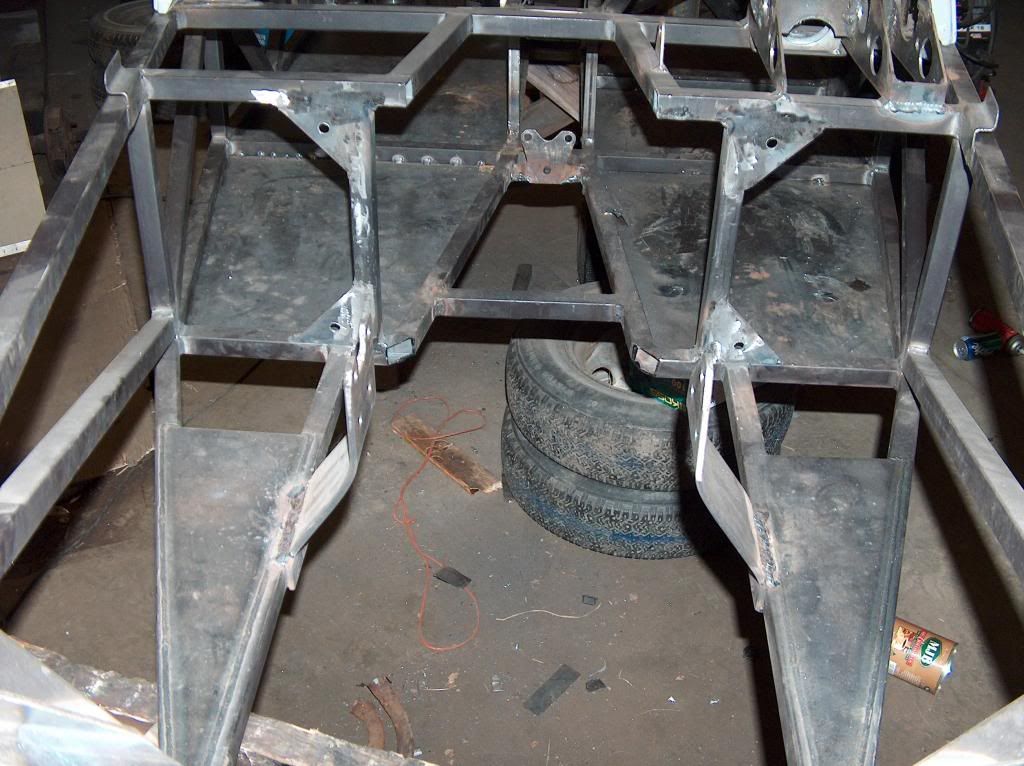 Engine mounts. Tunnel widened to fit entire bell housing.
The original plan was to use a first gen RX7 as a donor, but I had trouble finding a runner for a decent price. I then decided on a Corolla based car, but wanted something a little more powerful, not to mention readily available. I ended up with a 3.0 Ford v6 from a Taurus. The next problem was to mate it to a transmission. I ended up with a 5 speed from a Hyundai Stellar, which was narrow enough that it would be a good fit in the tunnel (and cheap). I had to fab up a flywheel and an adaptor plate to put the two together. I turned the flywheel from pieces of steel plate that I welded together and made an adaptor plate from aluminum plate that also doubles as an engine mount. The flywheel sandwiches the stock flex plate and ring gear to the crank. The adaptor plate bolts to the engine, then the transmission bolts to the plate, then the plate bolts to the frame at the firewall. Engine and transmission are mounted solid.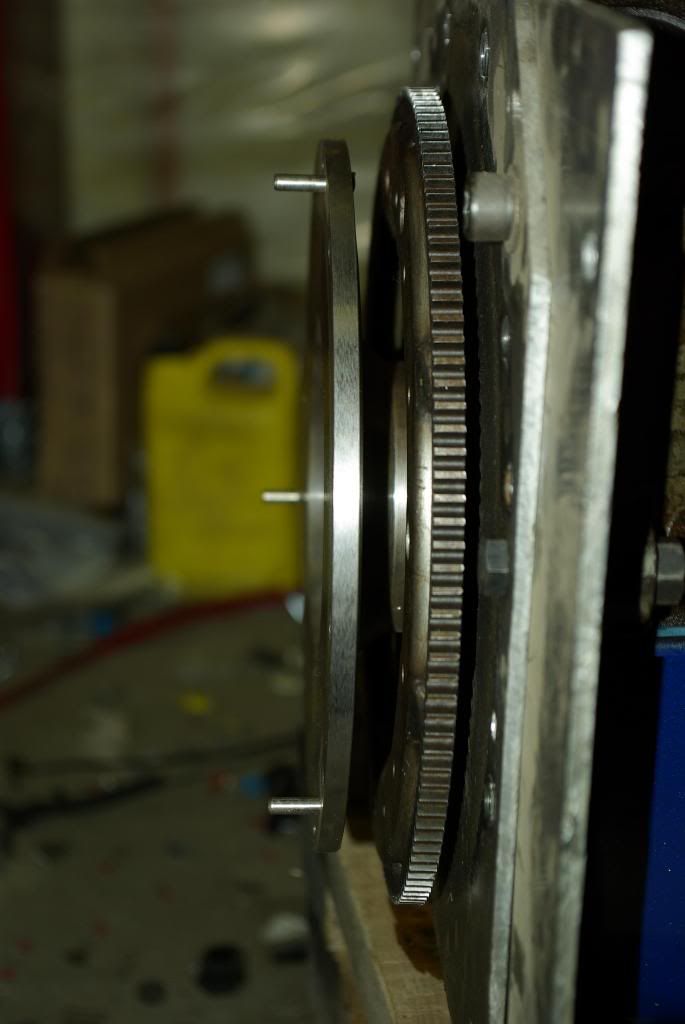 Flywheel and flex plate
Engine to trans adaptor plate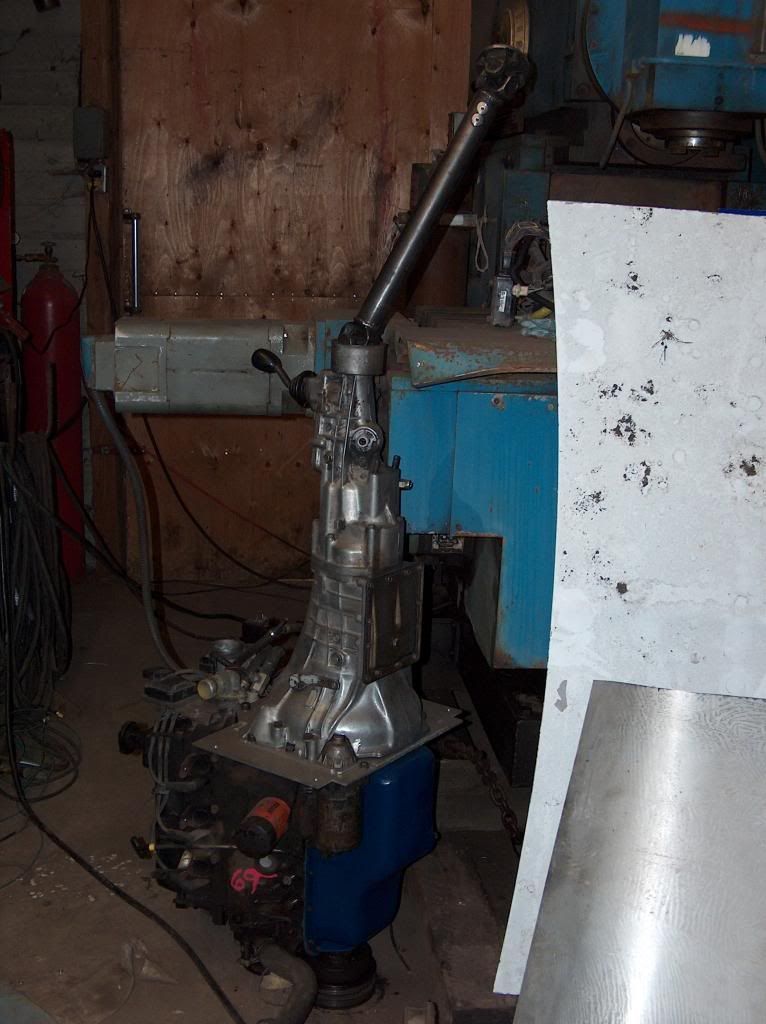 Engine, trans, and driveshaft
The diff, front spindles, and brakes are from a Corolla, as well as the e-brake, master cylinders, and proportioning valve.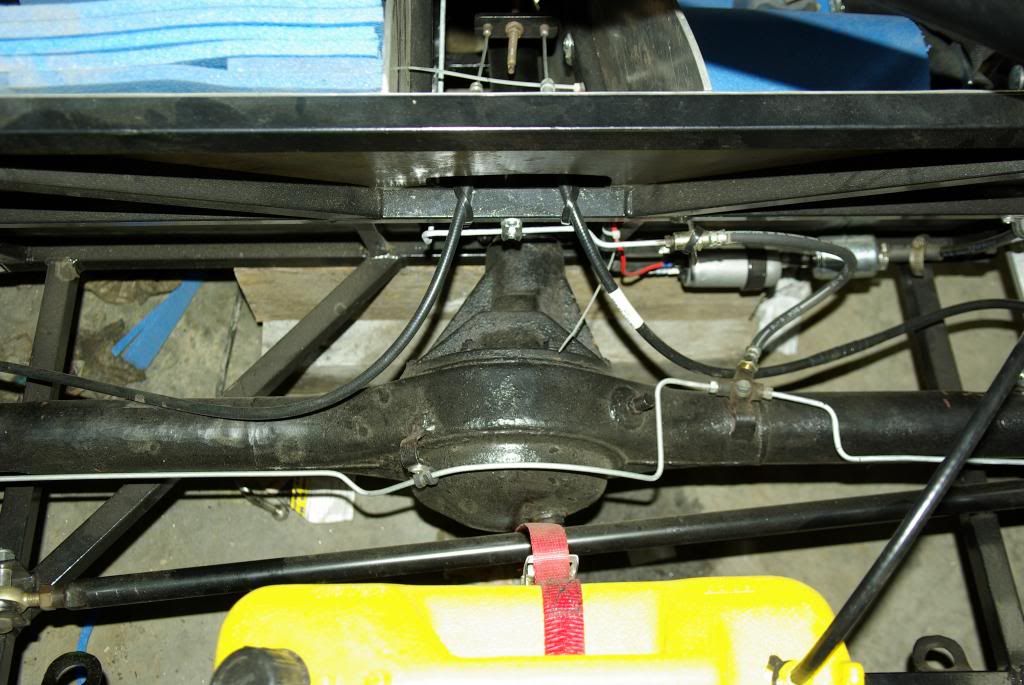 Diff, fuel pump and filter in upper right corner. Jerry can for fuel tank is temporary unless it passes an MVI.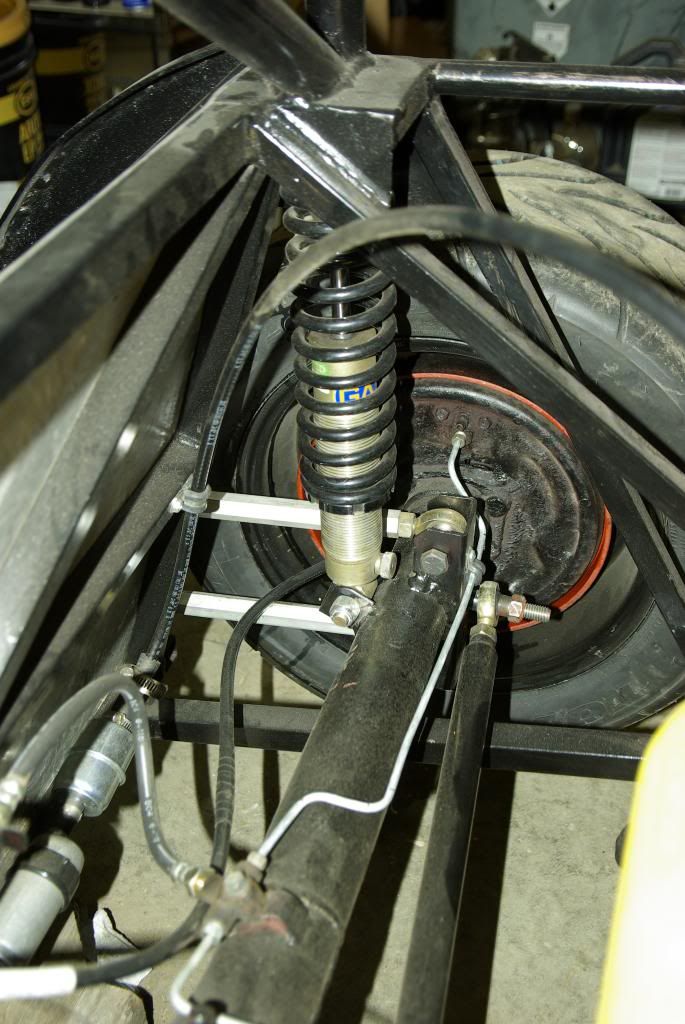 Gaz shocks from CMC, got them just before they closed doors. 4 link bars are Peterbilt clutch linkages cut to length. (3/4" hex aluminum with rod ends)
From the side. Tires are Toyo R888 225/45/13 and wheels are 13x7 from Marsh Racing, 12 lbs each.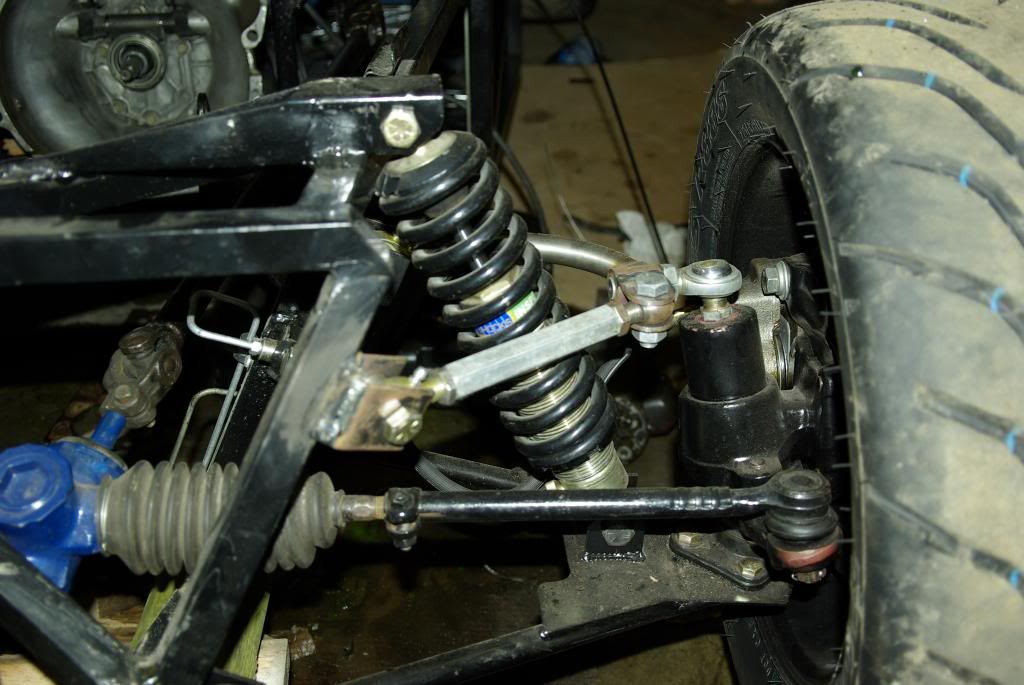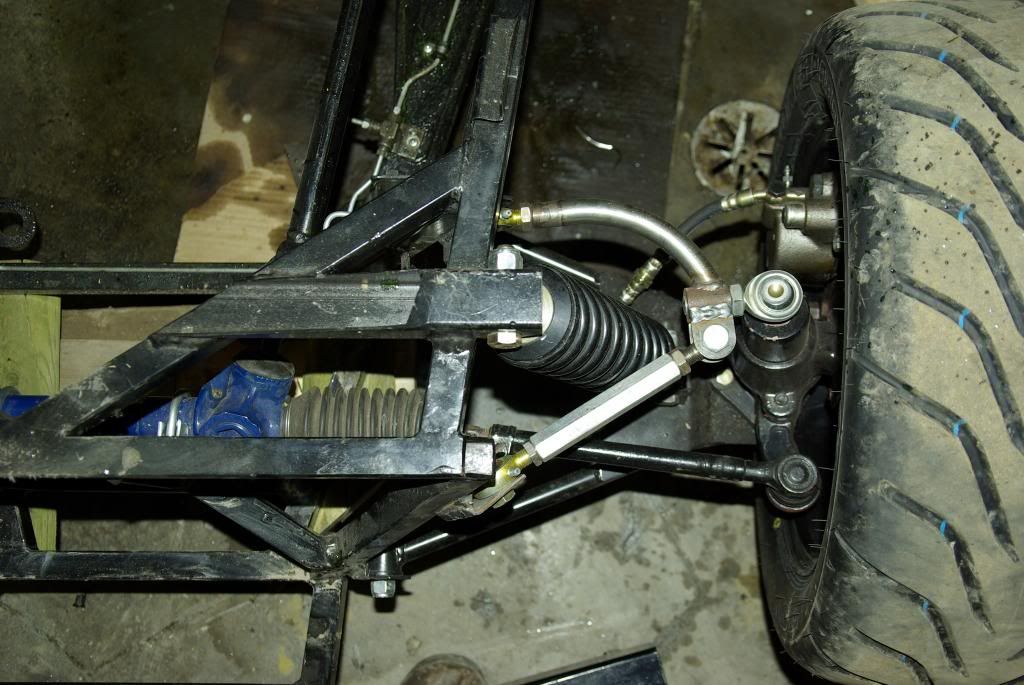 Front suspension. Lower arms are from CMC, uppers are home made (more peterbilt clutch links and the clevis was used to support a Freightliner fuel tank). Upper shock mount changed to get desired ride height and for strength.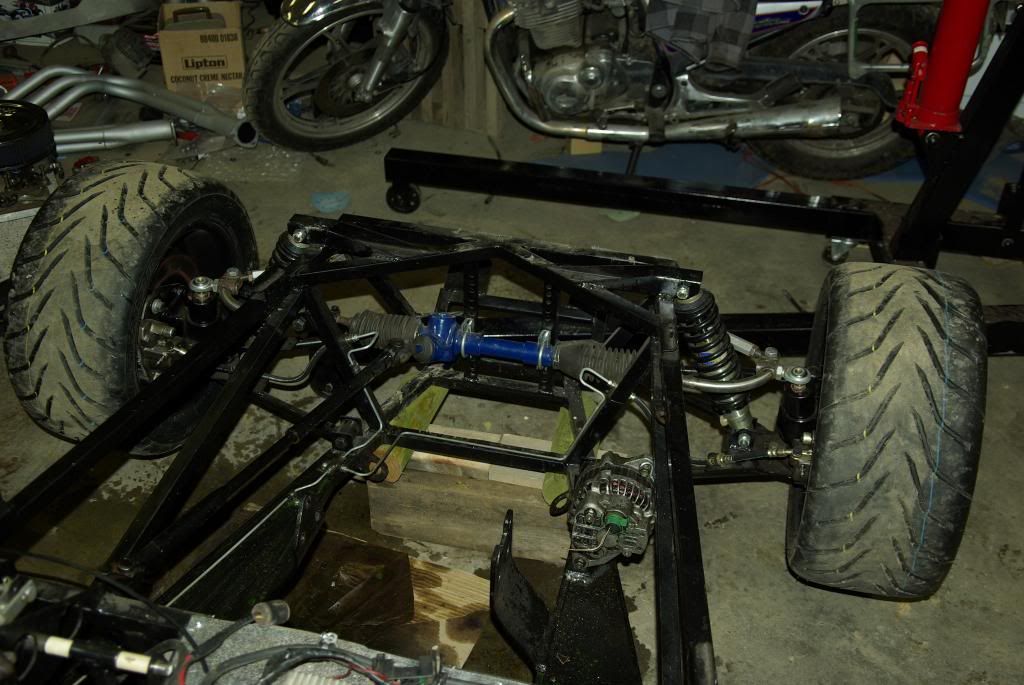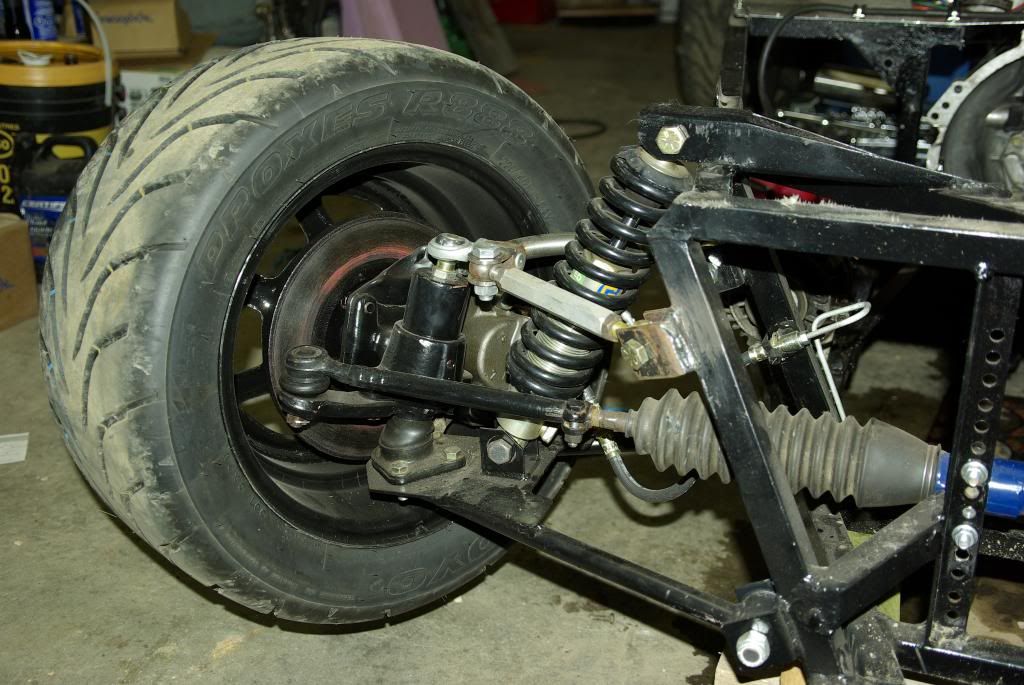 Steering rack is from late 80's Tercel and shortened 6". Alternator is from Geo Metro with the stock mount welded to the frame. I used a small turnbuckle to tension the belt.
The office. The seats are simple pads made by layering blue camping pads and gluing together. Side bolster is 3/16" aluminum plate. Original plan was for aluminum race seats, but there isn't a seat I fit into that fits in the car. Stearing column is from a 77 F150. Simple, stylish, and I wanted self canceling signals. (And it was free.) I still need to make a harness bar at shoulder height and probably a headrest too.
Here's the car just after the first test drive.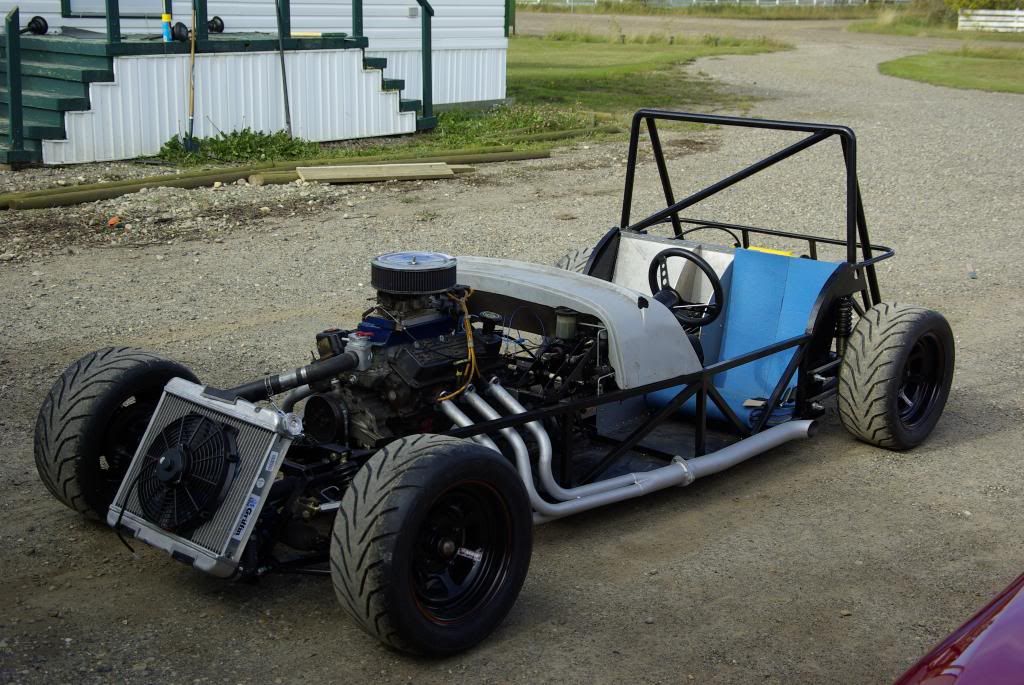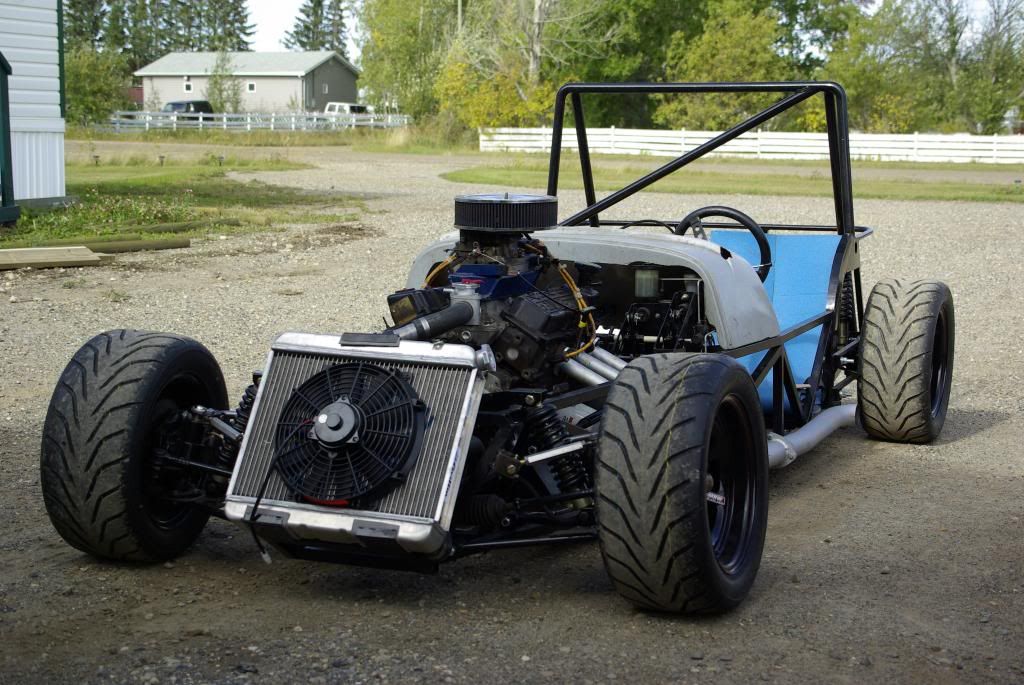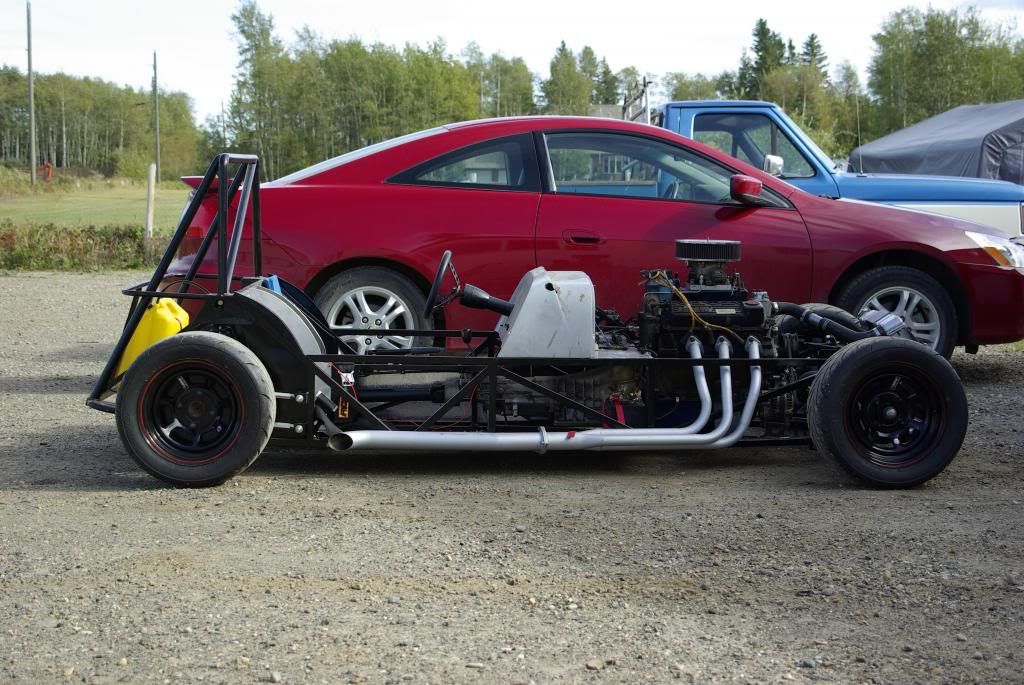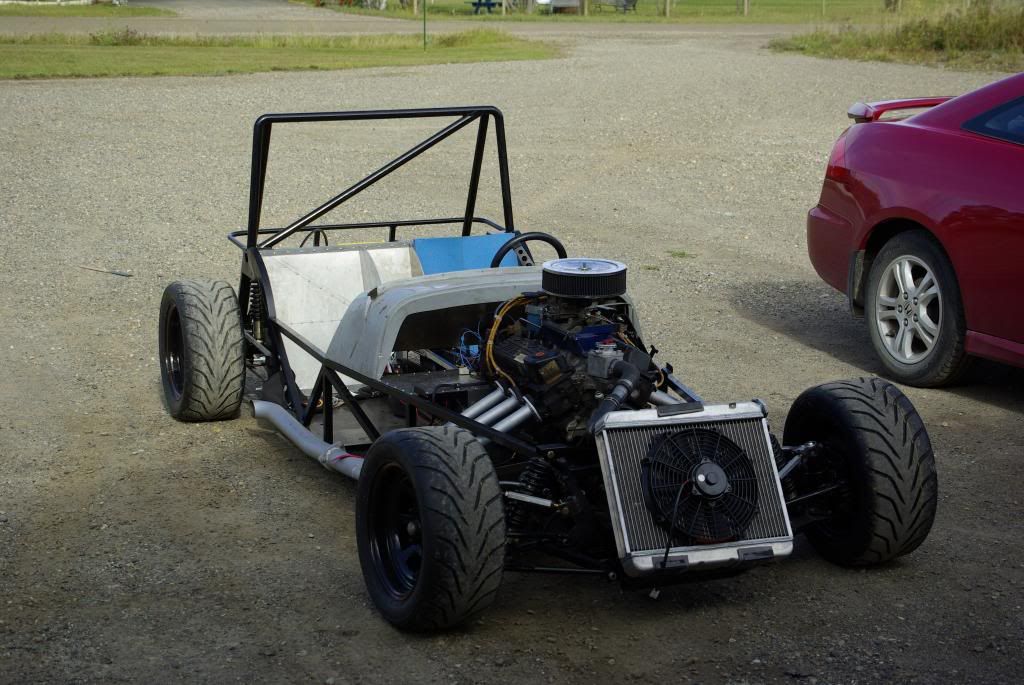 And here's the reason that I had to pull it all apart.
Number 1 and 4 rods both broken, pistons in pieces, and a couple bent pushrods. I don't have a tach or rev limiter, but the higher it revs, the better it pulls. At least until it let go.
Now my winter project is putting in another engine and wiring it up for all the lights to make it legal. Thanks for looking and have a good day.
Kristian