My kit just arrived at the Baltimore Port and is about 2-3 weeks from my garage….so I figure it's a good time to start a build blog (it'll give friends a common location to see my progress, hopefully get comments from the forum on what mistakes I'm doing and suggestions, documents my build for my own reference, and hopefully can help others in their build). Here's a little background and what I've done to date:
Why a Lotus 7:
-Classic sports car Front Engine, Rear Wheel Drive layout
-light weight minimalistic approach
Kit vs. Scratch build:
-After lots of research and reading through peoples blogs, I decided that buying a complete kit would give me the best chance of finishing this project in ~6 months. I figure if this takes me more than 1 yr, the project would be in serious jeopardy of never being completed…plus, we plan to move in about a yr, and I really don't want to more midday through a project like this.
-I also don't have any welding skills….and while I'd love to learn, it adds a lot of time and equipment cost to a build like this. Plus, I'm not too sure I'd want to rely on my novice welding ability when my safety is at stake.
Purpose of car:
-I'm moving away from a purpose built autoX car, and looking for something that can do a little bit of everything...Street/Sunday drives, Track, AutoX, Drifting,...
-This will stretch my mechanic abilities: I've done a lot of car projects...swapped engines, suspension, added a Turbo,...but this would be a complete package build.
-a fun project for my wife and I. We've been looking for something to do together...autoX is fun for me, but quite boring for her (I'd be bored just watching too!). Rather than being gone all weekend racing, I'll be at home in the garage, where we can take more breaks together and hang out. She's also doing her own blog of this…it's got a unique "non-car" perspective:
http://kitcarchickcar.wordpress.com/
Why MNR Racing Vortx:
-I wanted to do a Miata build…I've owned and worked on a handful of miatas and think they're great and don't cost a bundle to get. MNR just came out with a specific kit for the Miata – perfect timing!
-MNR is well know and widely used in Europe. Lots of ppl racing them w/ good results.
-inboard shocks/springs, round tubing for frame
-UK pound to Dollar is at an all time low, so the final price was comparable to other similar kits (ie MK Indy R)…other kits like the Caterham or Westfeild are considerably more expensive (but they seem to be closer to a "touring" package…interior carpet and the like)
-Chris at MNR was very responsive and I heard great things about their customer service.
My Donor Car:
-'99 Miata sport edition w/ 100K for $3,200 (Sport edition: Torsen LSD, front bumper lip, Blisten shocks, Torino 3 spoke steering wheel …)
-The body wasn't in the best condition, but I don't need those parts!
-So far I've sold $2.5K worth of parts, and I still have a lot of parts left! (I think NB's fetch higher prices than the normal "locost part out NA Miatas"…I hope to break even in the next few weeks).
Mods:
- FFS (Fast Forward Superchargers) Coldside Supercharger: I had planned to leave the engine stock to keep things simple and the budget low – but I got a great deal on this!! The nice thing w/ the coldside is that it replaces the OEM intake manifold, so you only add 20lbs, and don't take up much more space; The only concern I have is that the MNR frame or hood might not have enough clearance…only time will tell. This should make a reliable 200 wHP, with the potential to bump up to 240 if I mess w/ a 5th injector for cooling.
- MegaSquirt ECU and 420 cc/min injectors (Mazda RX-8). Running sequential injection. I already had the car running on this set-up before pulling the engine – very happy with the results!
Completed thus far:
My goal has been to get the garage and donor parts all ready by the time the MNR kit arrives…that means selling all of the donor car extra parts, freshen up the engine/tranny/diff, and clean the garage!
-90% done w/ Timing belt, Front/Rear main & cam seals
-really glad I did the water pump too…when I removed the timing belt cover, I could see a small amount of coolant leaking.
-Removed all wiring (I need to start removing all the un-need portions now)
-Raised the frame off the car (rather than lifting the engine/tranny out, I found this method on Fly'n Miata's site…6 bolt/nuts in the rear, 8 in the front, and the whole front/rear subframe drops out!)
-drained/removed fuel tank
-cleaned/painted Diff (it was super rusted)
Next:
-install new Clutch/Flywheel (got a lightened flywheel)
-Clean/paint brakes/uprights,…
Pics:
The Donor – we picked it up in Salt Lake City…picked up some extra items along the way!
½ through dropping the sub frame:
Frame by itself: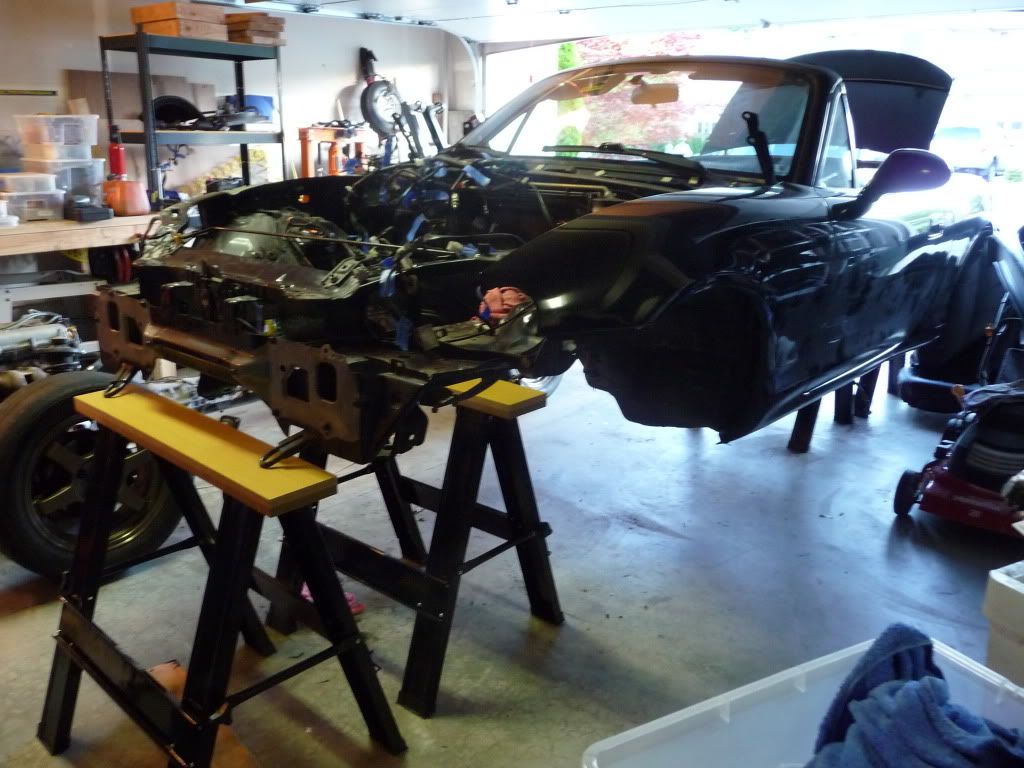 Sub frames dropped from car!
Diff in sub frame…so much rust! (the rust was so bad it was flaking off the diff)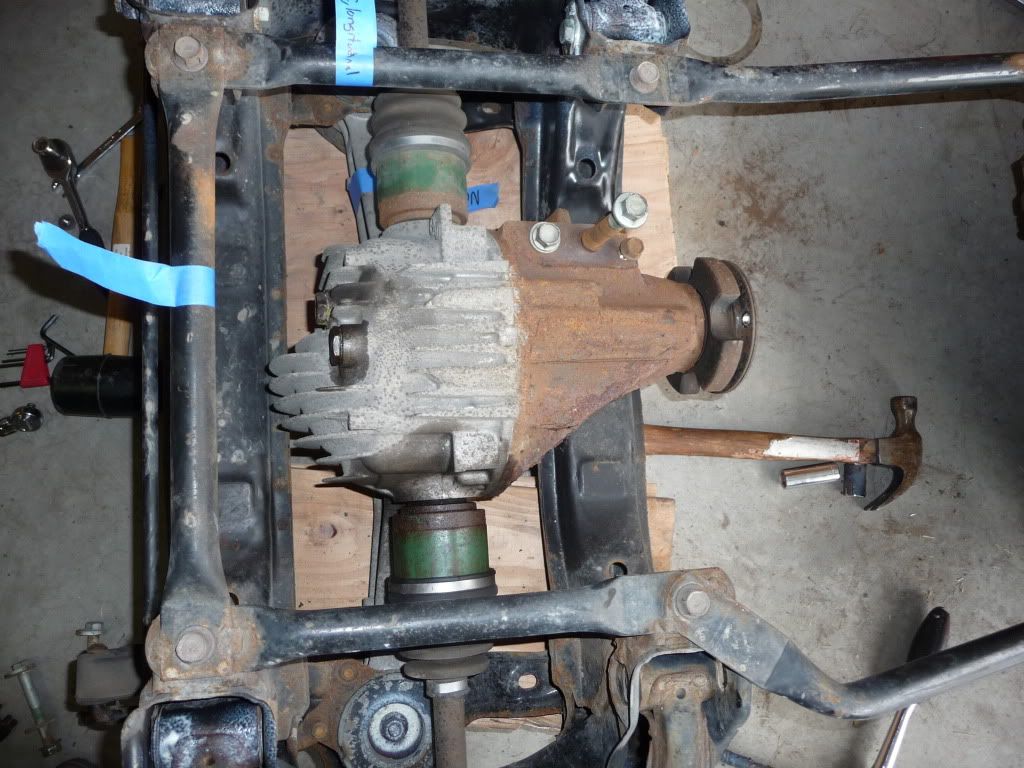 Diff in "Evapo-Rust"…stuff works pretty well, and it's non-toxic. HF carries it.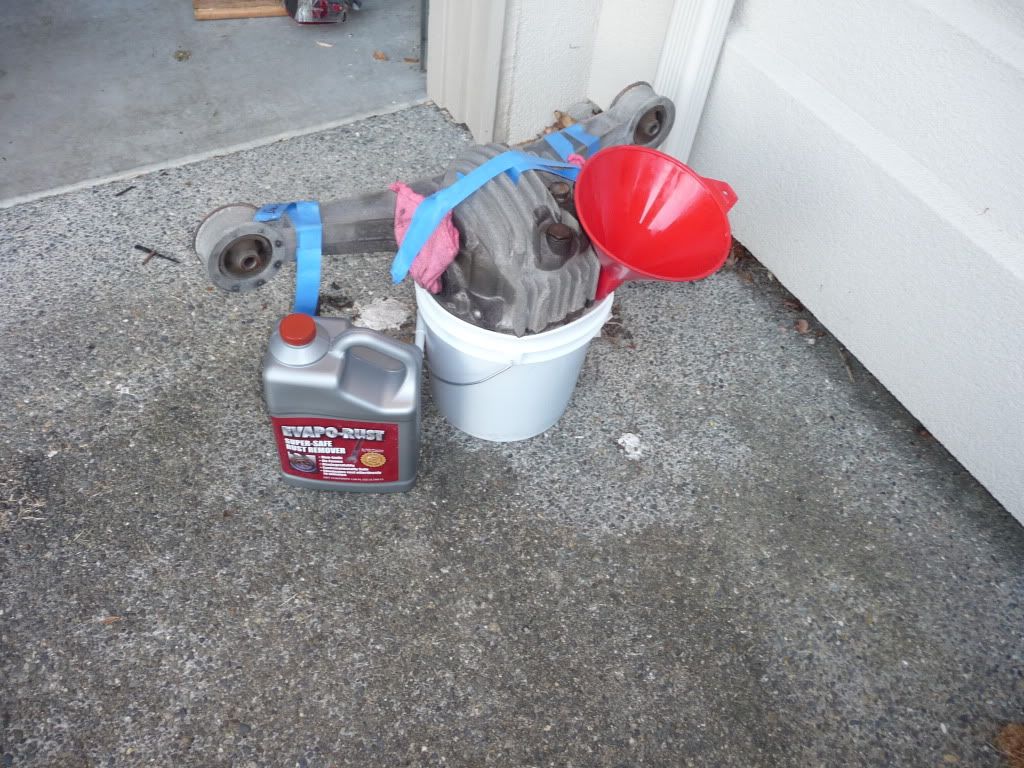 Diff after painting w/ rustoleum. This should make it easier to spot oil leaks…the car will be black w/ a red stripe.
While doing the Timing Belt, I decided to do the Coolant re-route and plug the front head outlet…Coolant flow will come out of the rear instead.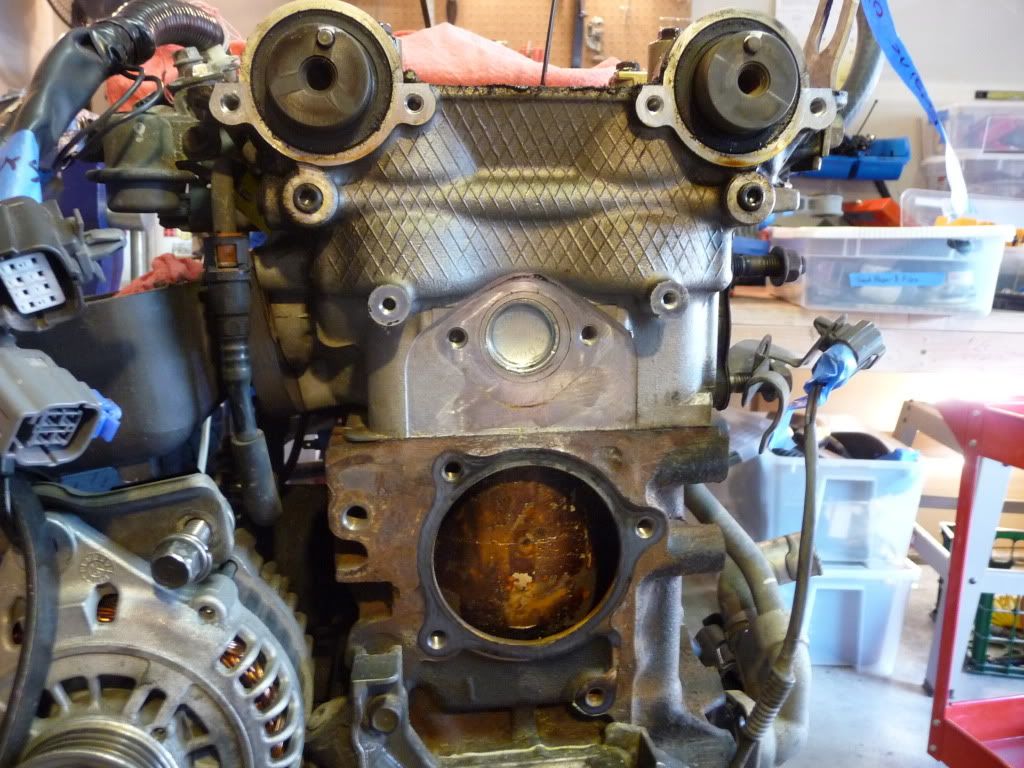 WIRES!