I've been trying to get as much done to the donor parts as possible prior to the kit arriving…especially items that are easier when they're not installed. So I decided to finish most of my Coolant Re-Route. I won't go into all the details as to why ppl do this (there's plenty of info on the web) - here's what I did:
-plugged the front coolant outlet
-added 1.6L coolant neck to the rear of the head
-moved the Tstat to the rear and drilled a small 3/16" hole in it
-Will run the coolant over the top of the exhaust…I have a coldside super charger, so I'm space limited on that side
-No heater for the car, so I'll need to plug the water pump inlet that normally receives the heater core coolant…I'll wait to do this until I test fit the engine to ensure everything fits properly.
My only concern is that the temp sensor is now pushed out further and is the most rearward object on the engine…I'll have to check clearances once the kit arrives - worst case, I'll have to drill/tap the head to accept the temp sensor.
Top is the OEM '99 miata rear coolant neck - which provides flow to the heater core.
Bottom is a 1.6L front coolant neck, same mount config, but will point directly outwards. (the '99 front coolant neck pointed closer to 45 degrees downward)
The '99 and 1.6L coolant neck have different sized temperature sensors…I found a male/female plug that allowed me to mount the '99 sensor into the 1.6L neck…I modified the plug a little to ensure the temp sensor was in the coolant flow.
I took the OEM '99 thermostat and put it in the rear. The head has the same small lip in it to accommodate the Tstat. Since I won't be running a heater line, I drilled a small ~3/16" hole in the Tstat, to allow some flow through. My basic understanding is that you always want some flow through the engine to prevent hot/cold spots from forming. (you don't want too much flow, otherwise it'll take the engine a long time to heat up)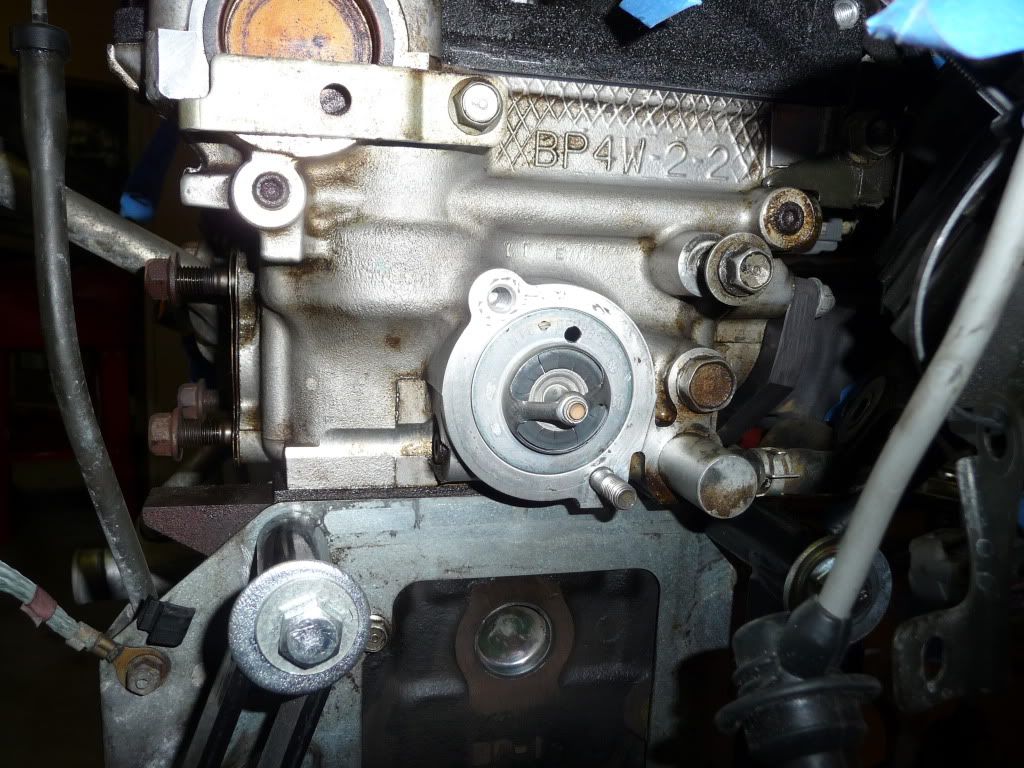 You can see the "freeze plug" on the front of the head. Normally this is where the neck connects to and houses the Tstat...