I'm re-writing some this because of corrections in the math due to finding the actual right angle ratio.
egoman wrote:
Just use the motor trans and front diff from an awd astro van.
What you may not have noticed is my plans for 50-60mpg. I love my diesel because of that and it's torquey, which I'm aware isn't really required for these cars but is a lot of fun. The diesel will also be a breeze to get running because it's mechanically injected and require no computer, I'll post a pic of the engine wiring later since I just wrapped it. I also already have the engine and trans, which saves me times and maybe money depending of the price of syncro diffs. I do realize that this will provably be as expensive or more so than a normal low cost, my saving grace will be having the engine and trans, which are worth at least $2k for what I'm running. The parts I'll be needing for drive shafts are cheap too so that will help too.
To get the speedo to read correctly, I need to either change the gear or adjust with tires. I decided (after finding correct info) to do both. If I use the speedo gear for the gas trans with the 3.667:1 diff I get a speed rating 5% too high, the trans is spinning faster than it normally would for the same speed. The rest is just tires.
I did a little work with this last night:
tire calculator
. Stock the golf comes with 175/70-13 tires, which have a circumference of 71.1 inches, I found 205/55-15 has a circumference of 75.0 inches, which would make my speedo read 5.4% slow according to the calculator. That's exactly what I want however because the diff ratio of 3.850:1 is 5% lower than the stock 3.667. So with 205/55-15 tires or an equivalent circumference both the speedo and odometer would be correct. I'm thinking I could check that with all the radar signs in my area
. I'll probably get some 205/55-15 Michelin Pilot Exalto A/S tires for regular driving, and some 225/50-15s slicks for funsies
.
Also here's a quick sketch I made (in paint) of the drivetrain layout: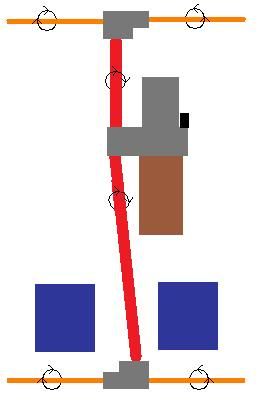 The colors are as follows:
Blue: Seats
Brown: Engine, intake and exhaust are on diver's side
Grey: Transmission and diffs, the front diff is being turned correctly the rear is reversed
Red: Driveshafts
Orange: Axles, regular fwd VW axles bolt right up to these
Black: starter