Another "Bex Solution" by cheapracer, because Bex is Better!
4 links trailing arms should not be parallel!!
.... even though 99% of the mod car population thinks that it goes without saying they should be.
Trailing arms do not roll around a center point between them, nor do they rise in a 2 dimensional plane in roll, they roll 3 dimensionally controlled by points (RC and chassis pivot) some distance away, there's 2 sides of them and they are at different points of that arc hence their longitudinal chord lengths change at different rates. This is pyhsics that can't be changed regardless that your brain is now screaming
"Trailing links should be parallel!!"
.
Why do links bind? Because they immediately become non-parallel (longitudinally) at the first instance of roll and the change in the link's chord lengths opposes the opposite side's trailing links that are also trying to do their thing causing bind.. specifically the top link in bump shortens faster than the opposite side's top link in droop and the axle won't twist to compensate.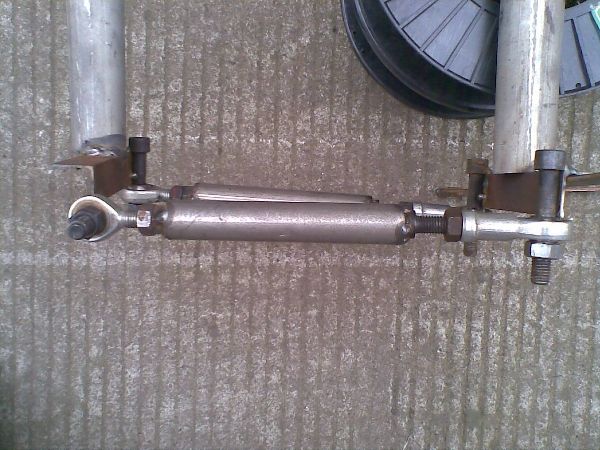 By having
non-parallel links
we have one side's top link chord length shorten in roll (bump) while the opposite side's top link shortens at closer to the same rate while in droop.
The test setup;
For a practical sample I chose the very popular Locost 4 link rear trailing link setup as per the book specifications. Although using some scrap steel, great care was taken in dimensional accuracy. Note horizontal heims were used on the dummy "axle" upper pivots to enable quick height adjustment for the test ..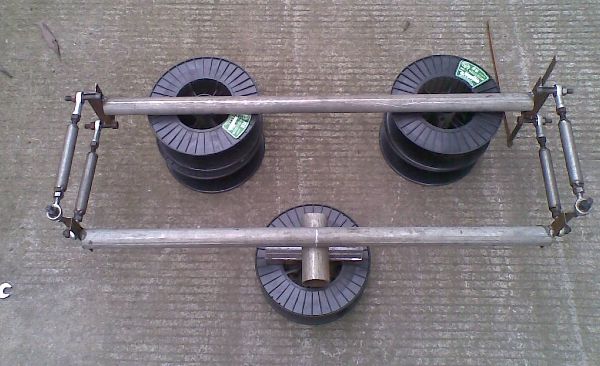 Links and jig;
Links were 292mm in length as per book, initially 140mm vertical spread and all 4 jigged for accurate length ..
The result;
With the links parallel as per the book specs and common mythology that 4 links should be parallel(not to mention 99% practical application), bind was quickly established at around 6 degrees. Axle had to be mildly forced to this limit, would not fall under it's own weight after about 4 degrees and binding was felt well before limit. Note at this point all 4 links were very tight to swivel due to the binding and had not reached their travel limit ....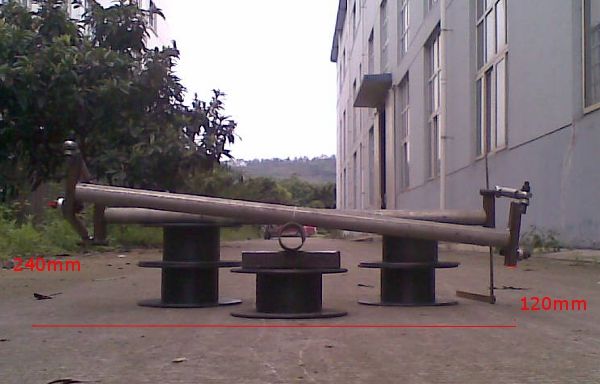 With the links set non-parallel (rear pivots set 8mm closer together), bind was non-existent, the axle fell under it's own weight until travel limit of horizontal heims was reached. note that the only reason the axle stopped at this point was because the horizontal heims ran out of travel - THE AXLE WOULD HAVE TRAVELED MUCH FURTHER FREELY with vertical heims. The lower links swivelled freely and easily indicating little bind. Stupid picture should read "255mm" on the left..
The resulting "winning" dimensions that you might use on your Locost, note the horizontal hiems have run out of travel ....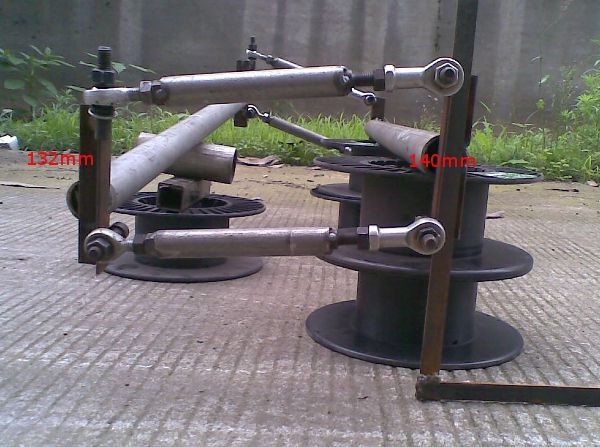 I also tested upside down with the RC centered to a live axle (above test with RC 50mm below wheel centerline) with similar results... note in the lower picture the trailing arms have reached horizontal having traveled further and again i stress that it only stopped there because the horizontal hiems ran out of travel, not because of bind!
I take these tests very seriously and was very careful to check and recheck before taking results.
Should you do it even though theres thousands of Locost's running around today successfully? Well that's entirely up to you now you have the information, note that the serious binding starts near the end of suspension travel limits on a typical Locost but it is there. At maximum bump this will tend to creat oversteer due to the binding creating anti-roll besides the higher wear/stress on your heims and chassis mount stress. Of course rubber bushings masks this (but doesn't remove the binding anti-roll) but that's not good enough for me and it shouldn't be for you.
On a Locost this should be very easy to check/modify for yourself by merely adding 2 extra holes on the rear axle brackets as shown (can weld a washer over later) or raise the front mounts the same amount. Note that at 120mm test seperation binding had seriously returned, 132mm was the sweet spot (no need to take that too literally, 130mm is also fine);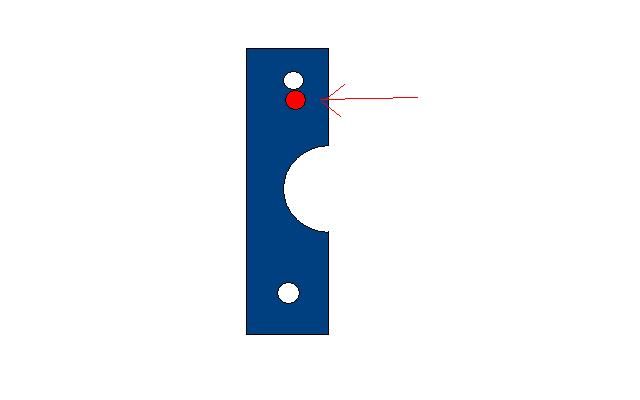 As another proof of point, I currently have a mock up of another 4 link (DeDion) with 710mm long non-parallel trailing arms with vertical seperation of the pivots at 310mm front and 290mm rear - a full 20mm difference. With the trailing arms parallel I get serious bind within 100mm of travel but with the rear pivots 20mm closer I can lift either side a full 200mm freely using 1 finger and only limited by chassis interference in this case. Pictures another day, phone battery dead.
Don't believe me? Make up your own test rig, use some wood, nails and hook screws or try this on your current 4 link, it's not that difficult to prove or understand once "you see it"!
Some people will not be convinced because of the mindset about what 4 links should be ie;
"Parallel!!"
but a few of you more flexible thinking might benefit from this for your builds