BTW... since I'm on the subject of anti-dive & this program... I didn't see this mentioned anywhere in the previous pages, so I should point out to everyone... the above diagram showing the anti-dive/anti-squat geometery is actually not correct.... it is however, I believe, how the program is calculating it... that being, the 100% line being drawn between the front tire contact patch and the center of gravity.... given the age of the original program, I'm assuming this to be the case because it's an old (& often used back then) error.
That is only going to be accurate if your CG location as a percentage of the wheelbase is the same as your front brake percentage.... now, in my case that's actually not that far off... so the anti-dive percentage the program generates is actually in the same ballpark for me (front brake bias = 58% / rear weight bias 57%).
The actual amount of anti-dive is dependant on the percentage of the total amount of braking force generated by the front tires... the correct way to diagram it is this...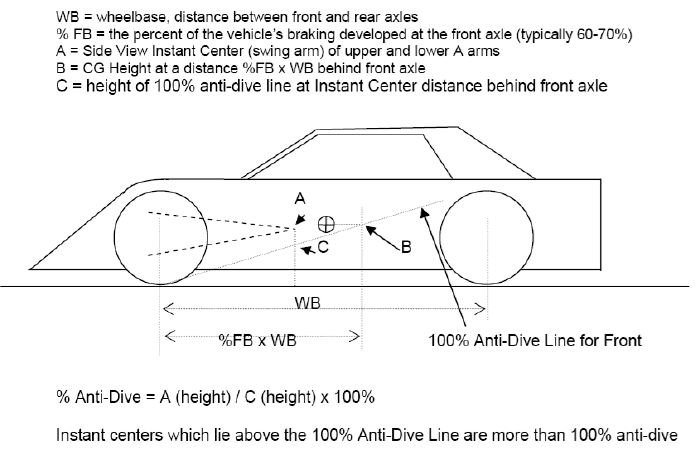 So, for the program to generate an accurate result it would have needed a front brake percentage input for use in the calculation.
Also, the way the descriptions are wirtten, I'm assuming it was also intended to be capable of calculating the anti-squat percentage of an independant rear suspension... well, unless you have 4WD that result isn't going to be in the same zip code, let alone ballpark.
The 100% line for a RWD vehicle runs from the rear tire contact patch to the CGH at the front axle.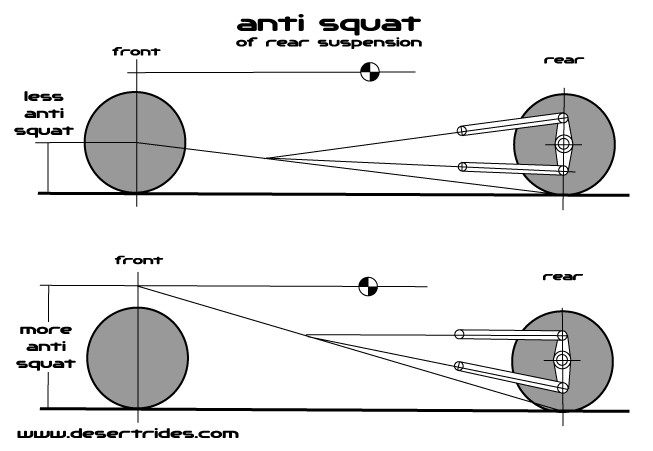 The reasoning is the same as for anti-dive... in the case of RWD, 100% of the acceleration force is generated by the rear wheels... so the 100% line = 100% of the wheelbase at CGH.
I figured I'd point this out as a potential pitfall to anyone using it... unless your front brake percentage is at least
VERY
close to your rear weight percentage, the anti-dive figure is not going to be anywhere near correct.
EDIT

:
To correct anti-dive/squat calculations enter
CG Long
as equal to the wheelbase for rear anti-squat... for front anti-dive input
CG Long
(as a negative number) as a percentage of the wheelbase equal to your front brake percentage (usually between 60-70% for performance vehicles).
See later post for explaination & example:
http://locostusa.com/forums/viewtopic.php?p=194193#p194193