Well here is how my journey is going;
I read Ron's book in early 2009 after finally finding a reasonably priced copy. I had seen a Locost at a track day I was at in 2008. I thought about building one and browsed this forum since the day I saw the car. I've always altered my street cars to be poor auto-x and track toys. I decided I wanted a car that I could build for that purpose, and maybe it would be a poor street car at the very least. My personal goal was $4000.00 and 18 months, and I really thought I could do it. My wife just laughed. I started in January 2010. I am now on month 25 and about $5200 into it. I am married, the main household provider, we have an amazing 4 year old son with autism and a beautiful little 2 year old girl. Most of the fabrication work was done between my daughter's 9pm and 2 am feedings. She was bottle fed from birth, and I fed her every chance I got. I am also more of a night owl than my wife, so the nights were mine. I'd lay her down with a full belly, rush outside and work, then return when she was hungry again. It was great. We had a lot of bonding time during our nightly feedings.
Work changed and so did a lot of other things. We've moved, I had my appendix out, and plenty of other family adventures along the way. For the move the car was in parts on a flatbed trailer, and it seemed to rain all the way from Michigan to Alabama. The frame that I had worked so hard to keep rust free was absolutely covered in rust (even thought I sprayed it down with WD-40 just before the drive and had a tarp over it the whole way). That set me back quite a bit. Through it all, it has been a fun journey and something I have always wanted to do. My wife tries to send me to the garage more than I go, because she knows that it is something that calms me, and I enjoy doing. I have a great time figuring out the big puzzle of building a car.
Through the whole job though I have had a helper.
My little man believes that it is his car, and he drives it every chance he gets.
He helped me make sure the table was level:
He was so excited the first day it rolled on wheels outside that he forgot his pants:
And he still loves helping me today: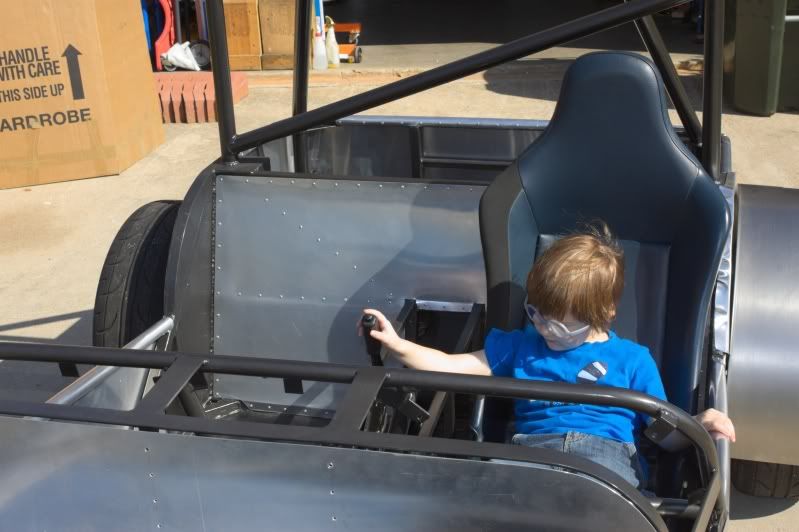 (He doesn't get to weld or use the grinder yet, and as you can see he always has his glasses on for safety. I just watch him close because as soon as he finds a screwdriver or hammer he is working on something.)
My children are my greatest joy, and nothing will take away from that. I know I am a happier, better husband and father when I find an outlet for my stresses and play in the garage for a few hours. It doesn't happen everyday, or even every week, but the project is there and there is always something to be done. I am going to see it through.
Decide if a Lotus Seven inspired car hand built by YOU is something you want to have one day, and go from there. Only you know if you've got the drive to turn that pile of parts into a moving car one day.
Spend as much time as you can with those little ones, they grow fast.
Congratulations, and good luck!
Steve