I wanted to put together a simple little write up to help people record better audio for their locost videos. There are a lot of common problems that are quite simply solved if the right equipment is used in the right way.
Problems:
Wind, SPL (Sound Pressure Level or "perceived volume"), and Vibration
These are fairly unique to recording cars (at least they rarely show up together in anything but transportation recording). For this reason the microphone and recording system of your video camera are designed in exactly the wrong way for this type of recording. The good news is that the right equipment will really fix most of your problems.
The Cheap Solution:
•
Recording
:: If your video camera has a microphone input then you are in luck! If it doesn't then go out and buy one of
these
.
External Microphone Input on a Kodak ZI8
•
Microphone
:: Now you need a microphone to attach to your recorder or your camera. You want a dynamic microphone, condensers can be better in many ways but they require phantom power and they tend to have lower SPL handling. A dynamic will be cheaper and will take way more abuse. The standard is the
Shure SM57
for $99, but there are some other options that might serve you well. The
PG56
is cheaper at $69 but has less low end response. The
Opus 67
is more expensive but will be MUCH easier to mount by the exhaust pipe.
•
Windjamming
:: You'll want to sock the end of the microphone with at least foam and a jammer if you can get one. This
jammer
will fit nearly any microphone and
this foamie
will fit the SM57. You could also just wrap it with something similar to acoustic foam. If you can use the back end of the car to shield the microphone from the wind that's also very helpful.
•
Isolation
:: You want the microphone to be isolated from the vibrations of your chassis. Mount it off to the side of the exhaust pipe aimed across the mouth of the exhaust. Wrap it with foam and ziptie it down or tape the crap out of it, but ISOLATE IT. Don't build a fancy metal rig to bolt the microphone to the chassis or the audio will be ruined. The more isolation the better, but make sure it won't fall off in service.
•
Wiring
:: Your microphone has a male XLR plug but your recorder has a 1/8" (really 3.5mm) mini jack. You'll have to do some tests to make sure you have something that will work but the general rule is that if you wire Pin 2 of the xlr to the tip of the mini plug and then wire pin 3 and 1 to the ring you will be fine. If the recorder/camera takes a stereo feed then 3 can be wired to ring and 1 can be wired to sleeve. You can easily just buy this cable
here
.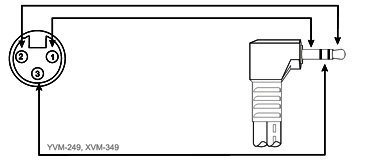 Now if you have to use an external recorder because your camera doesn't have a mic in then don't fret. Just make sure before you go for your drive you stand in front of the camera (so you are on film) and you clap really loudly. Later in your video editing software you can line up the clap on the recording with your hands coming together on the video, and now you know what that damn thing is on all those "making of films"
You'll need to have someone check the levels of the recordings while you drive, as your idle volume will be much lower than the "driven in anger" volume. You can certainly check and adjust yourself but it's faster to have a buddy. Then go out and drive.
If this is of interest to people I can expand this mini tutorial to include a bunch of different options and tricks for making your audio better.
Happy recording!