I started out on a path that's been trodden before by the Locost community. I originally wanted to build a Cobra, probably a Factory Five kit. I didn't get very far on this path however as cost was a considerable issue. The kit itself, shipping, dollar conversion and parts, for the average build, had me sitting around $35,000.00! As it's possible to purchase a decent, complete car for around that price, this didn't make sense to me. I also didn't/don't have $35k lying around that I was willing to spend on a hobby car. And then, several years ago I came across a Locost in the Auto Trade. I started looking into it and discovered the Locost. Being a big fan of the KTM and most Caterhams, I was hooked. I tossed the idea around in my head but wasn't ready to start the build as I didn't have an adequate shop. I have the shop now and the pieces have slowly started falling into place, so here goes!
Purpose: 100% street, there isn't a track within 900 km of me. Yea, I'm kinda rural, it might be a problem later on.
Chassis: Homemade, 1.25"x1.25", 16 Gauge square hot rolled tubing based on McSorley's 7+442E plans.
Donor: Ford Fox body Mustang, 302 V8 with solid rear end and 5 speed manual.
Budget: $6,000.00, only includes actual pieces for the car, not tools and equipment required to build the car.
Schedule: Complete by May 2013. I'd really like to be done before then, but that is an absolute must completion date.
I guess I'll start out with my build table. The local hardware store doesn't stock steel 2x6s and I didn't want to buy a bundle so I used steel 2x4s instead. Due to the low overhead of the 2x4, I decided to countersink all my screws and drill them in from the top.
Build table in process with bracing: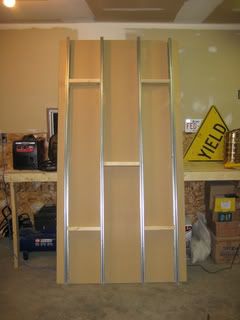 Finished product: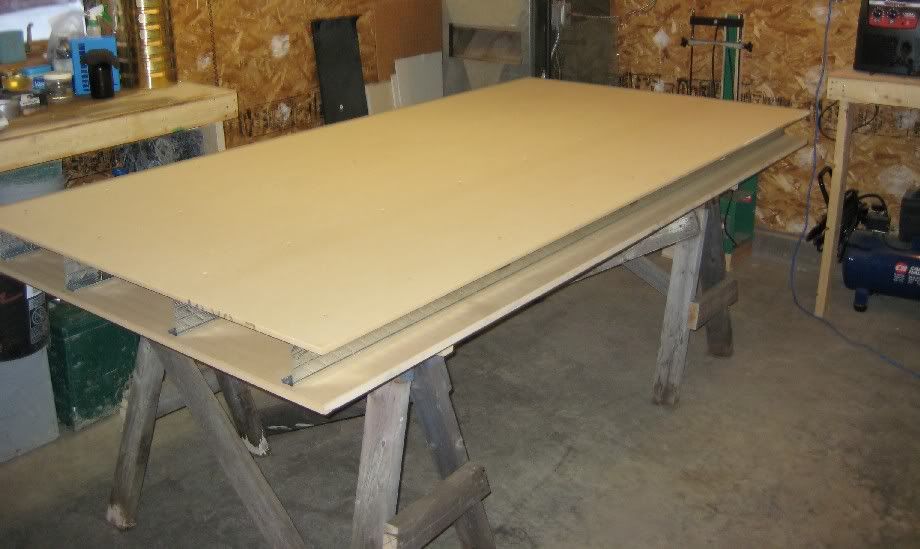 I can't actually proceed at this point as my steel hasn't come in.